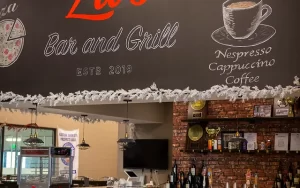 Once again, the dynamic duo of Felix And Fingers Dueling Pianos brought their infectious energy and musical prowess to Lu's Bar & Grill in Ion Arena, located in the vibrant city of Leesburg, Virginia. This recent event on November 11, 2023, was a public affair, attracting both locals and visitors alike. The atmosphere was electric, and the crowd was ready to let loose and have a great time.
Brotherly Bond and Musical Magic
One of the highlights of the evening was the undeniable chemistry between Felix and his dueling partner, Mike. As Felix put it, "I loved playing with Mike! I think he's a long lost, biological brother, and fortunately, we finally met! Lol!" Their connection on stage was palpable, and their musical collaboration was nothing short of magical. It's safe to say that this duo is a force to be reckoned with.
Engaged Crowd and Memorable Moments
The audience at Lu's Bar & Grill in Ion Arena was a lively bunch, eagerly awaiting the start of the dueling piano extravaganza. From the moment Felix and Mike hit the keys, the crowd was hooked. They sang along, danced, and wholeheartedly embraced the interactive nature of the show. The energy in the room was contagious, and Felix expressed his gratitude, saying, "The crowd was amazing. They were waiting and ready to party when we started! They were involved, singing along, having a good time, and I'm so grateful that they enjoyed us."
During a crowd work section, Felix and Mike engaged with the audience, asking where they were from or where they went to college. They then played songs related to those locations, creating a personalized experience for everyone. The crowd loved this interactive element, singing along and calling out new songs. It was a true testament to the power of music in bringing people together.
A Unique Venue and Exceptional Hospitality
Lu's Bar & Grill in Ion Arena provided the perfect backdrop for this unforgettable evening. The venue itself is a hidden gem, boasting an ice rink and training center. However, the restaurant area was thoughtfully designed to accommodate dueling pianos, with each side of the room offering a clear view of a pianist and a bar in the middle. It was a setup that fostered a sense of intimacy and connection between the performers and the audience.
The owner and staff of Lu's Bar & Grill went above and beyond to ensure the success of the event. Felix and Mike were full of praise, noting how helpful, kind, and generous everyone was. The owner was personally involved, assisting them as needed and checking in on both the performers and the customers. It was evident that the staff's dedication and support contributed to the overall success of the show.
A Night of Musical Surprises
The evening held its fair share of surprises and memorable moments. In honor of Veterans Day, Felix and Mike were requested to perform a medley of military songs, paying tribute to the army, navy, Air Force, and marines. The audience embraced this heartfelt gesture, showing their appreciation for the brave men and women who serve our country.
And who could forget the unique rendition of "BABY GOT BACK"? Felix took this iconic song and transformed it into a romantic ballad that seamlessly blended the original version with a slower tempo. The audience erupted in laughter, singing along and thoroughly enjoying this unexpected twist.
If you're looking to experience the magic of dueling pianos and the vibrant atmosphere of Lu's Bar & Grill in Ion Arena, don't hesitate to reach out to Felix And Fingers Dueling Pianos. Contact them at (800) 557-4196 to book your own unforgettable event. And be sure to share this blog post with your friends and family to spread the word about this incredible night of musical camaraderie at Lu's Bar & Grill in Ion Arena.
{{ reviewsOverall }} / 5
Users
(0 votes)