There's nothing quite as romantic as a Valentine's weekend retreat.  Felix and Fingers got out of the cold and heated things up at the Robert Allerton Park Valentine weekend retreat located in Monticello, Illinois.  This national, historical estate offered guests a weekend of live entertainment and relaxing for a chance to escape their daily bustling lives.
Allerton Park Valentine Weekend Retreat Dinner Show Monticello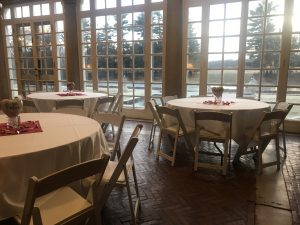 Whether you're planning a Valentine's Day escape or weekend getaway, Robert Allerton Estate offers the perfect holiday retreat package for your needs.  To be honest, the Allerton Estate is an amazing venue.  This University of Illinois owned formal estate has been transformed into an incredible events space with plenty of onsite accommodations.  Perfect for out-of-town weddings.  If you would like to explore Allerton Park and Retreat Center please click here.
Felix and Fingers performed a Friday night dueling piano event at the Allerton estate.  This Valentine's themed show was perfect for lovebirds and groups of friends. Our performers for the Allerton Park Valentine weekend retreat show were Jennifer Lee Knuth and Robert Deason.  In fact, they're definitely one of Felix and Finger's dynamic duos!  Robert and Jennifer always have a blast performing together, playing well off each other and the crowd.
To start with, our performers DJ'd Billie Holiday during cocktail hour.  We must say this choice of music set a romantic tone to the evening.  Not only did the tone match the vibe, but it was a drastically different speed from our standard dueling piano shows.  Cocktail hour was a nice time as guests mingled, enjoyed hors d'oeuvres and settled down before the real party got started. There was a laid back feel in the room as many guests opted to stay at the resort for the weekend.  Thus, the formal dinner on Saturday night!
Love Songs and Fun Games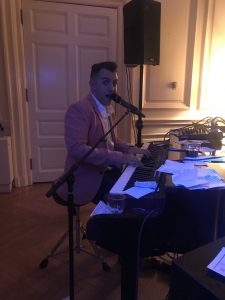 Love was in the air at the Allerton Park dinner show.  With a weekend package that included both delicious food and great music, everyone was sure to leave happy.  The Allerton Park Valentine weekend retreat show was all ages.  Although by the end of the evening, our performers had EVERYONE out on the dance floor.  This fun loving crowd was requesting tons of great dance songs, and it helped we KNEW THEM ALL!
Want to know how to immediately pack a dance floor?  Take your guests on a 90's musical journey of all things love.  As a matter of fact, that's what seemed popular with this crowd.  We handed out request slips that eventually piled up on the pianos keeping us busy all night long.  It wasn't long before Vision of Love by Mariah Carey and It's Your Love by Tim McGraw had the dance floor PACKED.  Our performers called a newly engaged couple to come up on stage and play a few couple's games with them.  Now the real fun of this party (other than music and eating of course) is this interactive game!  Enter the Valentine's Couples Trivia Game.  This was a Newlywed Game Show type of trivia game that eventually had our audience laughing so hard at some of the answers the couples came up with.
An important detail of the Allerton Park Valentine weekend retreat show was the incredible staff.  In all honesty, this was an extremely friendly and helpful group of individuals.  Our client mentioned they hold tons of events over the summer.  Perhaps Felix and Fingers can work with our client to create additional memorable events at this amazing venue?
Contact Us
Yes, Valentine's Day was on a Thursday, but the Allerton Park Valentine weekend retreat show gave everyone the opportunity to have a fun getaway.  Above all, Felix and Fingers set the tone for a fun, romantic evening to celebrate the season of love.  If you would like for us to perform at your next special event click here for more information or email us at info@felixandfingers.com.  If you would like further information on our website please click here.  We look forward to hearing from you soon!
{{ reviewsOverall }} / 5
Users
(1 vote)