A question I get a lot is, "How will you get people dancing at my wedding?"  Some people imagine dueling pianos as a fun, sing-along show where people sit around and drink.  That CAN be a dueling pianos show, but that isn't the kind of show we bring to your wedding.  At a bar, our main goal is to take requests.  We love it when we get obscure requests that we know.  It's awesome when someone drops a 20 dollar bill and asks me to play "Hakuna Matata" or "Spongebob Squarepants."  It's what makes Dueling Pianos great!  Every show is different!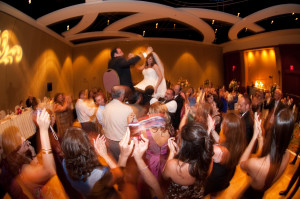 However, at a wedding, we aren't working for tips.  We're working for you!  We know you want your friends, cousins, and grandparents cutting a rug on that dance floor.  We're still going to play requests, but we're going to put an emphasis on those songs that we know will get the crowd on their feet dancing!  We'll usually do a mixture of top forty dance tunes as well as classic favorites like "Shout" and "Old Time Rock and Roll."  Sometimes I have a little trick I like to use.  Don't tell anyone about it.  It's a secret dancing technique.  I'll play "Can't Help Falling in Love with You," by Elvis.  All the "older folks" will join the rest of the dancers on the dance floor, since most people love this song, and at this point, everyone is ready for a slow song.  Then right before the song ends, I'll switch over to "Jailhouse Rock."  Everyone always stays on the dance floor.  Even grandma and grandpa!  They already admitted that they love Elvis, so I know they'll love his rock and roll as well.  It never fails!
Will they really be dancing at my wedding?  Prove it!
If you don't believe how good we are at getting people dancing, check out some of our reviews.  These are all taken directly from our reviews on TheKnot.com:
"You will occasionally look up, as I did, to see all the smiling faces, dancing feet and throngs of people laughing by the stage.  You will then know that beyond fantastic melodies and fun dancing, Felix and Fingers provides you with more to NOT worry about than you could have ever thought possible."
"They provided awesome music during our dinner service, as well as, an unforgettable show during our dance. There is no question that over 100 of our guests stayed until the end of the night because they were having so much fun listening and dancing to Felix and Fingers."
"We were really impressed with the wide variety of music played, everyone no matter what their age had a blast! Our dance floor was continuously packed and that proved to us how much fun everyone was having!"
"Due to the nature of our venue and size of wedding we were unsure if people would dance..But these guys really know how to get a crowd going!"
"Family that didn't normally dance, danced. People I expected to leave after dinner stayed until the end to at least listen to the show."
"People are still talking about how much they danced and how lively and engaged the musicians were."
I could go on!  These were just taken from the first several reviews I went through!  I promise we'll get everyone dancing, and they'll be complaining about how much fun they had then next day.
Not Bad, what else you got Felix and Fingers?
And check out this video from a wedding this past summer.  We had people dancing all night!  You can tell by the way the daylight slowly disappears.  (I'm video recording while playing and singing, so if my voice sounds a bit loud, it's because the camera is in front of my face!)
And finally, if you are little self conscious about your own dancing abilities, fear no more.  Click here and you'll be dancing like Kevin Bacon in Footloose.
Don't hesitate…  Get in touch with us today!
{{ reviewsOverall }} / 5
Users
(0 votes)