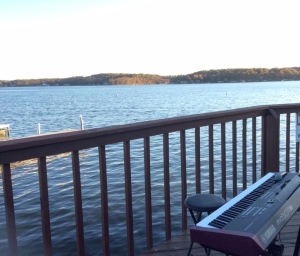 Weddings in the fall, Lake of the Ozarks. Nothing quite like it. Especially when the weather is perfect, the venue rocks (Tan-Tar-A Resort – Osage Beach MO), and you bring two huge blue pianos to celebrate! Our first stop was to play light jazz on Tan-Tar-A's spacious arrowhead deck, outlooking a beautiful Lake of the Ozarks sunset, where delicious drinks and hors d'oeuvres were neatly arranged for the arriving guests. Sinatra at sunset. Never gets old. After cocktails, everyone had the choice of walking or being driven in a golf cart up the hill to the wonderful Crystal Ballroom for the dinner and dancing. We took the golf cart 🙂
I will say, of all the fall weddings we've played at, this one took the cake as far as the decorations went. Absolutely stunning. As everyone entered the room, the saw tables decked out with fall-themed centerpieces, candles, and napkins. I personally loved the long table approach to dinner seating. It provides a great "we're all family here" atmosphere that was really inviting and enjoyable. The food was also fall themed and DELICIOUS. The Tan-Tar-A caterers knocked it out of the park (my favorite was the cranberry-spinach rice…and of course the prime rib!).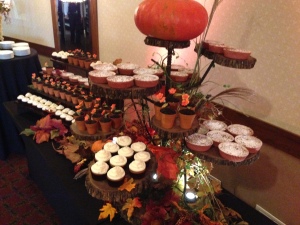 We Break Dance Floors…
By the time dinner was ending, we were all set up and ready to go on stage for another night of dueling pianos, wedding style. After doing this for four years, I'm happy to say that I no longer worry weather or not dueling pianos is the right fit for a wedding reception. It absolutely is, and it absolutely works. The objective is simple – get everyone on the dance floor, and then keep everyone on the dance floor. Done and done. There's so many great dance songs out there, and once you figure out what kind of songs the audience loves, you've got a sure-fire recipe for dance-party central. Not to brag or anything, but at this particular wedding everyone was dancing so hard that they actually BROKE the dance floor half-way through the evening! It was quickly and smoothly fixed by the Tan-Tar-A Resort staff while we lead everyone in a Sha-la-la-la sing off competiton with Brown-Eyed Girl, but STILL…"we break dance floors" has to look good on our resume somewhere…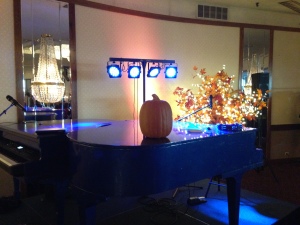 In the spirit of the season, we had everyone sign a (very convincing) plastic pumpkin with a sharpie as a gift to the bride and groom. It was pretty epic. All in all, it was another great reception, and we were lucky to be a part of it. If you're looking at Tan-Tar-A Lake of the Ozarks Resort for your reception, then 1.) You should totally choose this Osage Beach venue, and 2.) you should totally have Felix and Fingers play the reception! Think about it. We have pumpkins. And pianos. Boom. Just send us a quick email and we'll get right back to you with a free quote for your special day. If you're still uncertain, you can check out our promo video as well as all our reviews on The Knot! Hope to hear from you soon! Peace out!
{{ reviewsOverall }} / 5
Users
(0 votes)