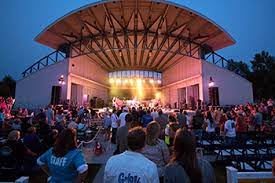 The Hilde Performance Center in Plymouth, Minnesota, recently played host to an unforgettable Felix And Fingers Dueling Pianos event. This outdoor festival brought together music lovers, foodies, and fun-seekers for a night of energetic entertainment. With a spacious amphitheater, delicious food trucks, and a crowd that was ready to sing and dance, this event was one for the books. Let's dive into the highlights of this electrifying evening!
A Venue Fit for Thousands
The Hilde Performance Center proved to be the perfect setting for this dueling piano extravaganza. Its massive amphitheater provided ample space for thousands of attendees to gather and enjoy the music. The spacious lawn allowed everyone to spread out comfortably, ensuring a relaxed and enjoyable atmosphere. With such a remarkable venue, it's no wonder that the night was off to a fantastic start.
Music, Food, and Dancing Galore
As the dueling pianos took center stage, the crowd at Hilde Performance Center came alive. Approximately 200 people gathered, their enthusiasm palpable in the air. From the first note to the last, the audience was engaged and loving every moment. The lively atmosphere prompted spontaneous dance sessions, with groups of people grooving together to the music. It was a sight to behold, and the energy was contagious.
Bowser's Voice and "Peaches"
One of the standout moments of the night came when a special request was made for the song "Peaches" from the new Mario movie. With a mischievous grin, one of the pianists took on the challenge, channeling their best "Bowser" voice. The crowd erupted in laughter and applause, thoroughly entertained by this unexpected twist. It was a testament to the performers' versatility and ability to create memorable experiences.
Perfect Timing, Rain or Shine
Mother Nature seemed to be in sync with the event, providing a touch of luck. Despite a day of rain leading up to the performance, the weather cleared just in time for the dueling pianos to take the stage. As the musicians played their final notes, the rain returned, creating a magical ending to a remarkable night. It was a testament to the power of music and the joy it brings, regardless of the weather.
The Felix And Fingers Dueling Pianos event at Hilde Performance Center was an absolute blast. The combination of a fantastic venue, delicious food trucks, and an engaged crowd made for an unforgettable experience. From the hilarious Bowser rendition to the impromptu dance sessions, every moment was filled with excitement and joy. If you're looking for a fun-filled night out, be sure to keep an eye out for future dueling piano events at Hilde Performance Center. Contact Felix And Fingers Dueling Pianos at (800) 557-4196 to book your own unforgettable experience, and don't forget to share this blog post with your friends and family. Let the music and laughter continue to bring people together!
{{ reviewsOverall }} / 5
Users
(0 votes)
Name
Address
Website
Email
Phone
Price Range
Venue

Hilde Performance Center

Address

3500 Plymouth Blvd




Minneapolis

,

Minnesota

55447