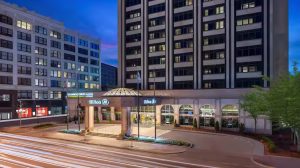 The Hilton Indianapolis Hotel & Suites recently played host to an unforgettable dueling pianos event by Felix And Fingers. This weeknight corporate event brought together engineers from all over the country for a multiple-day conference. The beautiful conference room at the Hilton in Downtown Indianapolis was transformed into a lively musical extravaganza, where networking and nonstop fun went hand in hand. With a dedicated staff, top-notch customer service, and a tasty food spread, this event was a hit from start to finish.
A Memorable Night of Requests and Sing-Alongs
A lot of people were networking at this corporate event, creating a lively yet not overly loud atmosphere. However, that didn't stop the attendees from making tons of requests throughout the night. From classic sing-alongs to modern hits, the dueling pianists at Felix And Fingers were more than happy to oblige. The energy in the room was infectious, with some very dedicated folks singing along to every song. It was a night filled with laughter, camaraderie, and unforgettable musical moments.
Hilton Indianapolis Hotel & Suites Shines Again
Having been to this hotel before, Felix And Fingers knew they were in for an amazing experience. The Hilton Indianapolis Hotel & Suites has a reputation for hosting exceptional special events, and this dueling pianos night was no exception. The staff went above and beyond to ensure that every guest had a fantastic time. The general sense of customer service was top-notch, making everyone feel welcome and taken care of throughout the evening.
The conference room itself was a sight to behold. Its elegant and modern design created the perfect ambiance for the dueling pianos event. The spacious layout allowed for comfortable seating and easy mingling, fostering a sense of community among the attendees. The Hilton Indianapolis Hotel & Suites truly knows how to create an atmosphere that enhances any event.
Tasty Treats and Fun Requests
As the night went on, the tasty food spread at the event caught everyone's attention. Sushi, empanadas, and quesadillas were just a few of the delicious options that delighted guests. The combination of great music and delectable bites made for an unforgettable evening of entertainment and indulgence.
Speaking of music, the requests at this dueling pianos event were nothing short of fun and eclectic. From Eminem to Dr. Dre, the pianists at Felix And Fingers had a blast performing a wide range of songs. The audience couldn't help but join in, singing along and creating an electric atmosphere. It was a night where everyone let loose and embraced the joy of music.
The Felix And Fingers Dueling Pianos event at Hilton Indianapolis Hotel & Suites was a night to remember. With a perfect blend of networking, nonstop fun, and outstanding customer service, this corporate event exceeded all expectations. The beautiful conference room, tasty food spread, and an incredible array of song requests made for an unforgettable experience.
If you're considering booking a dueling piano event or looking for a venue that knows how to make every occasion special, look no further than Hilton Indianapolis Hotel & Suites. Contact Felix And Fingers Dueling Pianos at (800) 557-4196 to bring the magic of dueling pianos to your next event. And don't forget to share this blog post with your friends and colleagues to spread the word about this incredible night of networking and nonstop fun at Hilton Indianapolis Hotel & Suites.
{{ reviewsOverall }} / 5
Users
(0 votes)