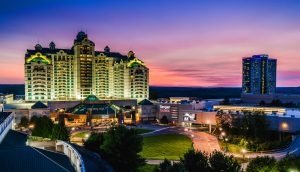 Foxwoods Resort Casino in Ledyard, Connecticut, recently played host to an electrifying dueling pianos event by Felix And Fingers. This two-day gig brought together cheerleading teams from all over the area, creating an atmosphere of excitement and celebration. With their incredible stunts, tumbling skills, and a love for line dances like the Wobble and Cotton Eyed Joe, the cheerleaders were in for a treat as they enjoyed the lively tunes and interactive performances by the talented dueling pianists.
The cheerleading competition at Foxwoods Resort Casino was a spectacle to behold. Teams of all ages and levels showcased their skills, leaving the audience in awe. The coaches, parents, and cheerleaders themselves found themselves thoroughly entertained by the dueling pianos, which provided the perfect soundtrack for their day of competition.
Felix And Fingers, known for their high-energy performances, had the crowd on their feet from the moment they took the stage. The pianists effortlessly played a wide range of songs, catering to the diverse tastes of the audience. From classic hits to modern chart-toppers, they had everyone singing along and dancing in their seats.
One of the standout moments of the event was when the cheerleaders took a break from their routines and joined the pianists on stage. The dueling pianos created an interactive environment, allowing the cheerleaders to showcase their spirit and enthusiasm in a whole new way. As the pianists played their favorite hype songs, such as Carrie Underwood's "Champion," the energy in the room soared, creating an unforgettable experience for all.
Aside from the thrilling performances, Foxwoods Resort Casino itself provided the perfect backdrop for this dueling pianos event. With its luxurious amenities, world-class entertainment, and vibrant atmosphere, it's no wonder why it's a top choice for hosting such events. The venue's state-of-the-art sound system and spacious layout ensured that every note and beat resonated throughout the room, creating an immersive experience for the audience.
If you're considering booking a dueling piano event or looking for a venue that can deliver an unforgettable experience, Foxwoods Resort Casino should be at the top of your list. The combination of Felix And Fingers' dynamic performances and the venue's exceptional features guarantees a night of non-stop entertainment and excitement.
To learn more about Felix And Fingers Dueling Pianos and their upcoming events, contact them at (800) 557-4196. And don't forget to share this blog post with your friends and family who are in search of an extraordinary entertainment experience. Foxwoods Resort Casino and Felix And Fingers Dueling Pianos are a winning combination that will leave you wanting more.
{{ reviewsOverall }} / 5
Users
(0 votes)