Welcome to our Thelma Sadoff Art Center Dueling Piano Show in beautiful Fond du Lac, Wisconsin. Our very own Will Krieger and Jake Ashey represented Felix for this amazing evening of fun. What's more? There was laughing, dancing and singing all night long!
Thelma Sadoff Art Center Dueling Piano Show Fond du Lac, Wisconsin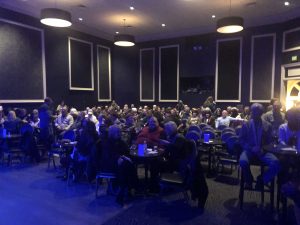 Before our show started, Jake and Will walked the room interacting with everyone. Our players quickly found out many guests had never experienced a dueling piano show. Therefore, after explaining to our audience the dynamics of our gig, everyone was super excited to party.
We also noticed friendly and helpful staff covering all bases and taking care of everyone. Thank you to these kind folk who worked so hard on our Thelma Sadoff Art Center Dueling Piano Show. We clearly couldn't have pulled this gig off without you!
What's more, if you're searching to impress your guests, they offer six incredible rental rooms. With dance floors, bars, comfortable seating, and more, we guarantee you'll find a perfect fit. Make sure to check out their wonderful preferred caterer list.
Above all, being an art center, there was an outstanding gallery just outside our room. Talk about eye candy. Oh, and our performance area offered a stage. We love stages. If you'd like a tour of the Thelma Sadoff Center for the Arts building, please click here.
Seasoned Dueling Pianists Impressed with a Fun-Loving Crowd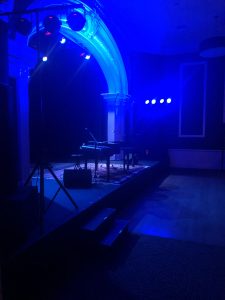 Our seasoned dueling pianists knew to play Livin' On a Prayer by Bon Jovi after cocktail hour. Felix had this crowd singing the "Ooo ah, Ooh ah, Ooo Ooo, Ooh ah" intro and it was awesome. This song panned out like a giant music video. In fact, HOORAY for signature drinks!
Jake and Will crushed their second half starting with Bohemian Rhapsody by Queen. This tune had cell phones out and flashlights on, leaving us impressed with the visual. A mega-rock concert of great fun indeed. Did we mention two female guests occupied our dance floor the ENTIRE night? These rockstars were actually sisters celebrating one of their birthdays. Therefore, Felix asked the entire room to sing Happy Birthday to one lucky birthday gal!
Jake, in the final fifteen minutes of our Thelma Sadoff Art Center Dueling Piano Show, performed a super song mash-up. Seriously, he had this crowd going nuts by mixing hip-hop and classic hits. Jake's 10-song mash-up also included a guaranteed crowd favorite of Baby Got Back by Sir-Mix-Alot. A large group of females flooded the dance floor and quickly showed off their moves. We were beyond impressed with their boogie!
Above all, Will closed the show out with an epic piano solo to Sweet Home Alabama by Lynyrd Skynyrd. Oh yeah, he shut it down, note for note, just like the actual song. Will received an ovation. Tons of clapping and positive feedback from our new friends. We look forward to performing at the Thelma Sadoff Art Center again. Felix certainly loved adding another super-fun ticket-only sold-out gig to their books!
Contact Us
If you're searching for a super-fun and interactive dueling piano show, Felix has you definitely covered. We're also the highest-rated dueling pianos company online. Give Felix a holler at info@felixandfingers.com. We'd love to hear from you. Felix also offers tons of options to customize your next special event. Click here to further meet our players and browse the site while planning your next party with Felix.
{{ reviewsOverall }} / 5
Users
(0 votes)