Durty Nellie's Dueling Pianos with Felix and Fingers in Palatine IL. It happened. Last Wednesday to be specific. It was awesome. Let me tell you about it 🙂 We pulled into the alleyway for our second appearance at Durty Nellie's the night before Thanksgiving (or blackout Wednesday, as some like to call it). No worries, no one blacked out. Instead, everyone had an amazing time (unless you think blacking out is an amazing time – in which case, no one did…). Anyways, we were a bit nervous before the start as this was our Durty Nellie's Dueling Pianos public show. The room was spacious and cozy, with couches all lined up along the walls and plenty of room to dance. After the hawks game, the bartender (Paul – awesome dude) switched on a digital fireplace on the huge plasma TV directly behind us (it was boss), shot off the tunes playing overhead, and the dueling began! It really was a perfect room for dueling pianos. Bar close by, great dance floor, comfy seating, and an awesome crowd. We always use the first few songs to test the waters a bit with the audience, but these guys were great. Really involved, laughing at all the right times, making requests and singing along, this night was off to a great start. Another great thing about Durty Nellie's is their consistency in bringing in great bands.
The Durty Nellie's Experience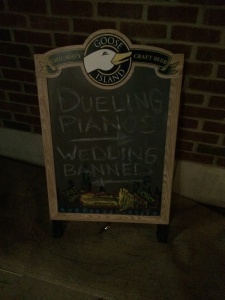 That night, we were one of three acts scheduled. The other two were a couple of killer cover bands on the main stage. This setup is great because it allows the bar to have a multi-flavor feel that offers different dimensions throughout the evening. There's something for everyone, and for those that partied in our room had a blast. We rocked for three hours to everyone's favorite requests. You know the drill. Anything from Lady Gaga to Billy Joel is fair game (for $100 we'll even play Taylor Swift- kidding. Its actually $200). We had a great lineup of classic requests as well as some newer songs that are more hot-off-the-press, such as the Meghan Trainor "All about that bass" parody "All About the Bears, No Trestman." If you haven't seen the video on youtube, here you go. You're welcome. All in all, we had a great night with Durty Nellie's Dueling Pianos and will be back again next Friday (December 12th), so come out and see us! We play from 10pm-1am. Hope to see you all there!
Dueling Pianos at Your Next Event!
If you'd like Felix and Fingers to play your event, Palatine or elsewhere, please don't hesitate to send us an email with what you have in mind and we'll get right back to you with a free quote. Cheers!
{{ reviewsOverall }} / 5
Users
(0 votes)