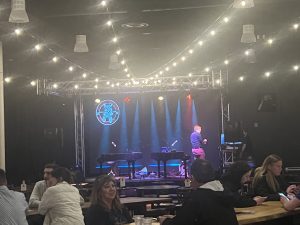 If you're looking for a night of high-energy entertainment and toe-tapping tunes, look no further than Reckless Shephard in Columbia, Maryland. On February 16, 2023, the venue played host to an incredible Felix And Fingers Dueling Pianos event that left the crowd buzzing with excitement. With a combination of exceptional talent, an excellent crowd, and a stage that was larger than life, this was a night to remember.
From the moment the first note was struck, it was clear that Jordan, one of the dueling pianists, was an absolute powerhouse. His fingers danced across the keys with precision and passion, captivating the audience from start to finish. The chemistry between Jordan and his fellow pianist was undeniable, creating a musical experience that was truly unforgettable.
Singalong Sensation
With Alisa leading the way, the crowd couldn't resist joining in on the fun. Her infectious energy and incredible vocal skills had everyone belting out their favorite tunes. From classic hits to modern chart-toppers, there was something for everyone to sing along to.
Unforgettable Moments
Throughout the night, the audience was treated to some truly remarkable moments. Angela delivered a show-stopping rendition of "Forget About Dre," which had the crowd cheering and applauding. And who could forget the duet of "You're the One That I Want" from Grease? The dueling pianists brought the house down with their harmonies and playful banter.
Venue of Excellence
Reckless Shephard proved to be the perfect setting for this dueling piano extravaganza. The venue's huge stage, adorned with dazzling lights, provided a captivating backdrop for the performers. The crowd had plenty of space to dance, sing, and let loose, creating an electric atmosphere that added to the overall experience.
A Touch of Humor
No Felix And Fingers event would be complete without a dash of humor. During the show, two guys in the front row requested "Gangsters Paradise," leading to some lighthearted banter from the pianists about recognizing non-rap songs. And let's not forget the guy who playfully flipped them off during "We Are Family." It turns out he was just having fun, referencing a baseball game from the 90s. Laughter filled the air, making the night even more memorable.
Contact Felix And Fingers
If you're looking to bring the magic of dueling pianos to your next event or if you want to experience the excitement of a Felix And Fingers show at Reckless Shephard, don't hesitate to contact them at (800) 557-4196. You won't be disappointed!
The Felix And Fingers Dueling Pianos event at Reckless Shephard in Columbia, Maryland was a night to remember. With exceptional talent, an excellent crowd, and a venue that provided the perfect stage for musical magic, it was an experience that left everyone wanting more. Whether you're planning a special event or simply looking for a night out, dueling pianos at Reckless Shephard is an absolute must. So, gather your friends, sing your heart out, and get ready for a night of unforgettable fun!
{{ reviewsOverall }} / 5
Users
(0 votes)