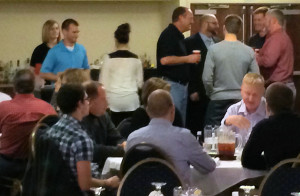 Ok.  I can't really say 'all' the songs, because we simply ran out of time and had so many requests come in.  However, before the show, a few gentlemen hinted that they would be trying to stump us.  Having played with Mike Sherman on many occasions, I knew he welcomed such challenges.  "Go for it!" he told them with a big smile on his face.
Through the night, they attempted just that.  Any song that resembled a challenge was bumped near the top of the list.  Even a slightly odd request of "Conjunction Junction" came in (ok, very odd,) and Mike took it on as if he had been playing it every day of his life.  I was hypnotized by the moment.  Is it possible that "Conjunction Junction" can really be such a cool song?  Apparently so.  I had to let out my own "wooo-ooo" during Mike's performance as my soul was carried away in the moment.  "Yeah, 'Conjunction Junction'" I thought to myself.  It works!
Throughout the night, the challenges became less of "let's see what they might not be able to do" and turned into "ok, they got us, lets give them something off the wall that we REALLY enjoy!"
And with those slew of requests, came a song by The Darkness, "I Believe In A Thing Called Love."
Two Guys Take The Dance Floor To Rock
By now, it was clear that we were all here to simply have a great time.  Everyone let loose, cell phones were recording video, and we had a great time together.  Especially these two men that danced for the crowd many times throughout the night.
Hey!  Thank you for being such a supportive group!
And kudos to Mike for handling every odd request that could possibly come his way!
I Believe In A Thing Called Love
{{ reviewsOverall }} / 5
Users
(0 votes)