Felix and Fingers have a blast performing at winter parties.  As a matter of fact the crowds, raffle prizes and food are always amazing during this time of year.  Our performers for the the Des Moines Hilton Holiday Party were Greg Percifield and Chris Heroldt.  We were informed that guests would in fact be leaving early from this event with a slim chance of dancing.  To be honest, it was exactly the opposite!
Des Moines Hilton Holiday Party Perfection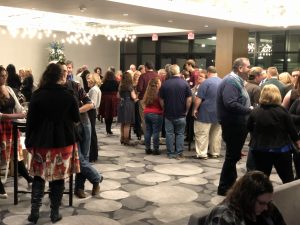 We would like to give a shout out to our client EquiTrust for hiring Greg and Chris to perform at the Des Moines Hilton holiday party.  EquiTrust was recognized among the "Wards 50" top life and health insurance companies. Felix and Fingers looked forward to putting on a fun interactive show for a group of hard working and talented guests.  To begin with, Greg and Chris played background music during cocktail hour with a merry holiday theme. It wasn't long before guests were on the dance floor swaying to I Believe by Frank Sinatra while others enjoyed amazing hors d'oeuvres and sipped on champagne.
Furthermore, the Cloud Ballroom was an excellent choice for the Des Moines Hilton holiday party.  Not only was the Cloud Ballroom beautifully decorated but the friendly hotel staff made sure everyone was having a great time.  Dinner was out of this world.  Park Street Kitchen, a restaurant located inside the Des Moines Hilton catered a delicious plated meal.  To start with, a Hanger steak with potatoes and french beans blew every one away with amazing flavor.  Moreover, a choice of tiramisu or fresh berry crepes accompanied frothy cappuccinos perfectly.  If you would like more information on Park Street Kitchen please click here. During dinner, our performer Chris played a superb variety of Christmas songs such as O Little Town of Bethlehem by Sarah McLachlan and Baby, it's Cold Outside by Dean Martin.
Dancing, Raffles and Requests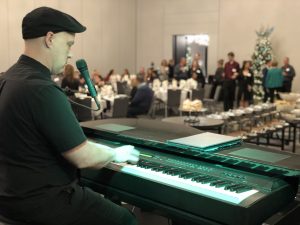 Before our performers got down to business The Des Moines Hilton holiday party enjoyed a raffle.  The CEO of EquiTrust gave away a trip to Disneyland, California. To tell the truth that's a pretty darn good raffle prize!  Even though there was excitement during the raffle, song request slips started piling up on our pianos.  In fact, a carpeted dance floor provided a soft surface for a few daring guests to perform The Worm.  Who can resits 80's style break dancing music such as Scorpio by Grand Master Flash? Life insurance must indeed be an eccentric industry as the dance floor was packed with awesome 80's moves!
We eventually took an era turn for a 90's request of Schoop by Salt-N-Pepa.  This crazy crowd had no idea it was our specialty.  Greg and Chris made sure this group noticed we had ALL the lyrics memorized.  Can we say our performers put on an amazing show?  For this reason we noticed there was a permanent group of dancers that never left the floor!  Above all it was really nice to see everyone hug it out during the Lean on Me by Bill Withers finale.  What a relief to hear most everyone had a room for the night…at the same hotel.  We highly recommend this smart choice for maximum partying!
Contact Us
In conclusion, Felix and Fingers had the time of their life at the Des Moines Hilton holiday party.  The CEO thanked us many times during the evening for keeping everyone happy with our amazing interactive show.  As a final point, the event planner loved the gift we had given her at the end of the night.  Sadly, she forgot it on the table when she left.  If you would like Felix and Fingers to perform at your next party email us at info@felixandfingers.com or click here for more information.  We look forward to hearing from you soon!
{{ reviewsOverall }} / 5
Users
(1 vote)