Felix and Fingers had the opportunity to perform at a beautiful theater in Cedar Rapids, Iowa. The Paramount Theater Event had tons for guests to do and was fun for everyone involved. To learn more about this great venue, please click here to read more at their website!
Paramount Theater Event
Hy-Vee held their annual holiday party in this beautiful historic theater, which had exquisite architecture. We played in the lobby area of the theater for the Paramount Theater Event which was the perfect spot to entertain all of the guests. The way they set-up the party is that we played in two different one-hour sections. In the other time slots, guests could participate or watch a lip-sync battle put on by fellow employees.
They had eight different acts filled with parodies and other fun songs, and our favorite was a parody of "Hello." The man and woman who sang it went all out, singing about a love for food. By the end of their skit, there were french fries on the ground everywhere. This group was a lot of fun to play for and see how they were unafraid to let loose and be silly or goofy in front of each other!
Music Time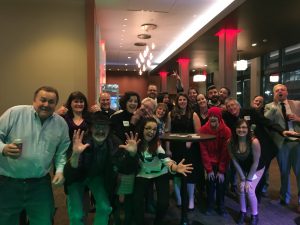 During our two time slots, we had plenty of great requests and guests seemed to really get into and enjoy the show. Like we mentioned before, this group knows how to have fun and let loose. We remember when we played one of our classic songs, we would cut out at certain points and the crowd would still be singing at the top of their lungs.
Another memorable moment came when someone requested the song "You Light Up My Life" which I can only remember being requested only one other time in the six years I've played. Last time it was requested, it was given to me as one of those "Let's see if they'll do this! kind of songs."  So this time, I was thinking that perhaps the same deal was going on.  I made a few jokes about the song, and rushed through a verse and chorus and stopped.  Then I asked about it, and found out it was actually a couple's anniversary song!  Even though I hadn't given a stellar performance, they were delighted that I didn't brush it off.  We had a great time and thought the guests enjoyed the evening and show as well!
To cap it off, I have to say, having performed at some large theater venues, I have worked with some of the greatest staff and stage crew ever. These folks are always ready to lend a hand and are constantly looking for ways to make our lives easier. Randy and his crew at the Paramount were so professional and any group would be lucky to work with them. We hope to be back one day!
Contact Us!
Interested in having Felix and Fingers Dueling Pianos perform for your next corporate event or party? Please email us at info@felixandfingers.com or click below to reach us through our contact page. We hope to hear from you soon!
{{ reviewsOverall }} / 5
Users
(0 votes)