Are you looking to take your public or private event to the next level?  Felix and Fingers recommend the Blue Chip Hotel and Casino. It's the answer to all your needs. Our performers Greg Percifield and Chris Heroldt played at the Blue Chip Casino holiday retirement party and had a blast!
Blue Chip Casino Holiday Retirement Party Indiana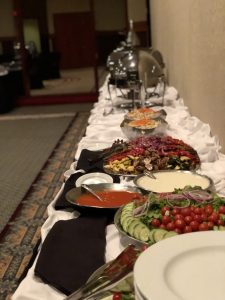 Let's start by saying Felix and Fingers love performing during the holiday season.  We get to play at some neat venues for some really great crowds.  The Blue Chip Casino holiday retirement party was a combined party for the Long Beach Fire Department's Chief.  We thank you for your service!  This was a small group of around 30 amazing guests who were ready to have a great time.  The Blue Chip Hotel and Casino is located in Michigan City, Indiana and offers banquet facilities that will meet your every need.  Professional event managers will handle your every event detail while offering outstanding chef inspired menus.  If you would like to tour the Blue Chip Hotel and Casino please click here.
To start with, guests enjoyed an open bar during cocktail hour while we performed holiday background music.  Felix and Fingers had a few guests out on the dance floor with songs such as Underneath the Tree by Kelly Clarkson along with a fabulous rendition of Hard Candy Christmas by Dolly Parton.  We must say Blue Chip Hotel and Casino outdid themselves with the appetizers.  It seemed the buffet options were endless.  For example there were amazing grilled and fresh veggie trays next to festive antipasto presentations.  Prior to dinner being served the Fire Chief gave his speech.  When a retiree begins his speech with "I'll be brief"…everyone should settle in.  In all honesty there were a few tears in the room as the speech was very touching.
Surprise Slide Shows, Non-Stop Requests and Tons of Dancing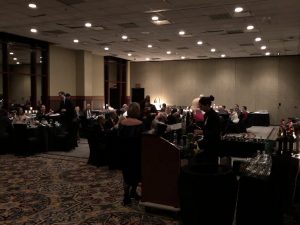 In addition to a delicious plated dinner there was a surprise slide show that Long Beach Fire Department employees had put together.  While guests dined on mouth watering steak alongside perfectly roasted veggies from William B's Steakhouse, they reminisced on special moments during the fire chief's time at the department.  Greg and Chris were asked to perform music during the slide show.  In view of this request we performed light holiday instrumental songs such as White Christmas by Bing Crosby to keep the moment festive.  By the way, William B's Steakhouse is a world class steakhouse where you'll also find exquisite seafood and pasta dishes.  If you would like to cater from or dine at William B's Steakhouse please click here. 
It wasn't long after dinner that we could see everyone was ready to party.  Although this was a small crowd there were non-stop requests.  Felix and Fingers love playing in a "friends and family" atmosphere as it allows us to really interact with the crowd.  Furthermore, our performer Chris played a great version of Bohemian Rhapsody by Queen that had everyone in the room singing at the top of their lungs!  Moreover, there was tons of "interpretive" dancing.  There were some dance moves out on the floor that we have NEVER indeed witnessed before.  Must have been that delicious eggnog!  Above all, a fitting group hug Irish sing along finale was quite fitting for the occasion as the Chief was Irish!
Contact Us
In conclusion, Felix and Fingers had the time of their lives performing for the Blue Chip Casino holiday retirement party.  As a matter of fact, when we finished our show the winning was just beginning.  The Blue Chip Casino holiday retirement party headed downstairs to the casino!  If you would like Felix and Fingers to bring the FUN to your party email us at info@felixandfingers.com or click here for more information.  We look forward to hearing from you soon!
{{ reviewsOverall }} / 5
Users
(0 votes)
| | Name | Address | Website | Email | Phone | Price Range |
| --- | --- | --- | --- | --- | --- | --- |
| Venue | Blue Chip Casino | | | Email | +1-219-229-0771 | |