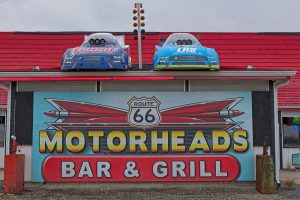 If you're looking for a night of non-stop entertainment, delicious food, and a venue that oozes with Route 66 charm, then look no further than the recent Felix And Fingers Dueling Pianos event at Route 66 Motorheads Bar and Grill in Springfield, Illinois. On March 4, 2023, this iconic bar and grill transformed into a haven for music lovers and party-goers alike. With its unique collection of Route 66 memorabilia and a lively crowd, it was an evening to remember.
A Venue Steeped in Route 66 Glory
What an awesome place. The owner is a Route 66 collector, and it shows. As soon as you step foot inside Route 66 Motorheads Bar and Grill, you're greeted by a treasure trove of memorabilia. Cars, racers, plaques, and original lighted signs are everywhere, creating an atmosphere that's as exciting as the music itself. This place is a true homage to the iconic Route 66, and it's impossible not to be captivated by the sheer amount of awesome stuff that adorns the walls.
A Night of Musical Magic
The event was a public bar affair, and it didn't take long for the word to spread. We sold out pre-sales a few weeks ago, and then they had to stop letting people in. The crowd was buzzing with excitement, ready for an evening of entertainment. And boy, did Felix And Fingers deliver!
Rowdy. Good requests. Super fun crowd. We loved it. The place was packed, and everyone sang along all night! The dueling pianos created an electric atmosphere, with the talented musicians effortlessly playing off each other's energy. They didn't shy away from playing some weird stuff, including Disney music and even Spongebob Squarepants. It was a unique twist that had the crowd dancing and singing along in delight.
A Night of Familiar Faces
For some, this event was more than just a night out. My fam and a bunch of old friends and family got to see it, which was good for me and special. Duncan, a local from Springfield, brought about 30 friends and family members to join in the fun. It was heartwarming to see familiar faces come together to enjoy an unforgettable evening of music and laughter.
Even my brother and his girlfriend made the trip from St. Louis, and to our surprise, the venue manager let him run sound for us! It was an unexpected treat that added an extra personal touch to the entire experience.
If you're in the mood for a night of pure entertainment, Route 66 Motorheads Bar and Grill is the place to be. With its awesome collection of Route 66 decorations, lively crowd, and the musical magic of Felix And Fingers Dueling Pianos, you're guaranteed a night you won't soon forget. So, why wait? Contact Felix And Fingers Dueling Pianos at (800) 557-4196 and make your reservation today. And don't forget to share this blog post with your friends and family who are in need of a dose of musical fun!
{{ reviewsOverall }} / 5
Users
(0 votes)
Name
Address
Website
Email
Phone
Price Range
Venue

Route 66 Motorheads Bar and Grill

Address

600 Toronto Rd




Springfield

,

Illinois

62711-1716