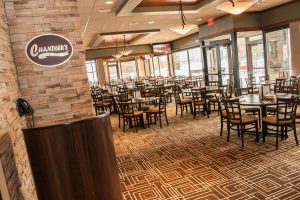 At a recent corporate event held at Chandler's Steakhouse in Schaumburg, Illinois, attendees were in for a treat as the venue unveiled a hidden musical surprise. Once the meetings concluded, the wall opened up to reveal the talented duo from Felix And Fingers Dueling Pianos, ready to entertain the crowd with their energetic performance. This unexpected twist turned an otherwise normal daytime corporate event into an unforgettable experience filled with music, laughter, and interactive games.
80's & 90's Requests Galore!
As the evening progressed, the crowd's enthusiasm grew, and the requests started pouring in. The dueling pianists skillfully played a variety of popular hits from the 80s and 90s, transporting everyone back to a time filled with nostalgia and good vibes. From classic rock anthems to dancefloor favorites, the pianists effortlessly delivered each song with their unique flair, ensuring that no one could resist tapping their feet or singing along.
Interactive Musical Bingo
Adding an interactive twist to the evening, participants were handed "Dueling Pianos Bingo" cards featuring various genres of music. As the pianists played different songs, attendees marked off the corresponding genre on their cards. This engaging game created a friendly competition among the guests, adding an extra layer of excitement to the already vibrant atmosphere.
Delicious Delights
To complement the musical extravaganza, Chandler's Steakhouse provided a delectable spread of food. From mouthwatering sliders to a beautifully arranged charcuterie board, guests were treated to a culinary experience that perfectly complemented the lively ambiance. The strategically placed food stations allowed attendees to enjoy their favorite bites while immersing themselves in the captivating performances.
An Unforgettable Afterparty
The dueling piano event served as the highlight of the afterparty for an all-day conference. After a long day of meetings and presentations, the attendees were ready to unwind and let loose. Felix And Fingers Dueling Pianos delivered the perfect dose of entertainment, creating an atmosphere where everyone could relax, have fun, and forge new connections.
A Musical Challenge
The pianists at Felix And Fingers were up for any challenge thrown their way. They engaged the crowd in a thrilling game of "name that tune" bingo, testing their knowledge of various musical genres. The attendees eagerly shouted out their guesses, and the pianists seamlessly transitioned from one song to another, keeping the energy high and the excitement palpable. From the crowd's love for Earth Wind and Fire to their attempts to stump the pianists with obscure old school country tracks, it was a night filled with surprises and musical delights.
Chandler's Steakhouse in Schaumburg, Illinois, proved once again why it is a premier venue for unforgettable events. The recent Felix And Fingers Dueling Pianos performance at a corporate event showcased the venue's ability to surprise and delight guests, turning an ordinary gathering into an extraordinary experience. If you're considering hosting a dueling piano event or looking for a venue that knows how to create an atmosphere of fun and excitement, Chandler's Steakhouse should be at the top of your list. Contact Felix And Fingers Dueling Pianos at (800) 557-4196 to make your event a truly memorable one. And don't forget to share this blog post with your friends and colleagues to spread the word about this incredible musical experience!
{{ reviewsOverall }} / 5
Users
(0 votes)