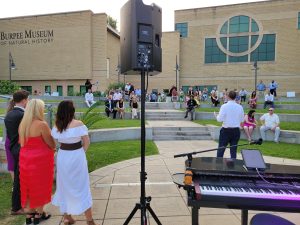 On June 23, 2023, the Rockford Family Peace Center in Rockford, Illinois was transformed into a lively haven of music, laughter, and fundraising as Felix And Fingers Dueling Pianos took the stage. This highly anticipated event, now in its third year, brought together music lovers, supporters of domestic abuse victims, and fans of the Rockford Leave Center's unique exhibits. With a theme of "Havana Nights," the night promised to be an unforgettable experience filled with singalongs, classic tunes, and a dance party like no other.
A Night of Fun and Entertainment
As the evening kicked off, the crowd was treated to an unexpected surprise before the dueling pianos took center stage. A fabulous drag performance set the tone for the night, instantly energizing the audience and creating an atmosphere of excitement and anticipation.
Felix And Fingers wasted no time in getting the party started. The talented pianists effortlessly took requests, entertaining the crowd with singalongs and beloved classics. The energy in the room was contagious as everyone joined in, belting out their favorite tunes and creating an incredible sense of unity and joy.
But the night didn't stop there. As the event progressed, the dueling pianos transitioned into a high-energy dance party, playing a mix of hip hop and dance music that had everyone on their feet. The ladies in the audience, in particular, had a blast, dancing and celebrating together to their favorite tunes.
A Venue Steeped in History
The Rockford Family Peace Center, the host of this fantastic event, is not just any venue. Nestled in the heart of Rockford, Illinois, it boasts a unique feature that sets it apart from other event spaces – the Rockford Leave Center. This mini field museum showcases an impressive collection of fossils and bones from the prehistoric era, offering visitors a glimpse into the region's ancient past.
The Rockford Family Peace Center's outdoor amphitheater, situated in front of the picturesque Rock River, provided the perfect backdrop for this lively event. The combination of natural beauty and historical significance created an ambiance that complemented the lively music and festivities.
Supporting a Worthy Cause
Beyond the vibrant entertainment and stunning venue, this dueling piano event was also a fundraiser, aiming to raise money for victims of domestic abuse. The Rockford Family Peace Center, in collaboration with Felix And Fingers, worked tirelessly to create an unforgettable evening that not only entertained but also made a positive impact on the community.
If you're considering booking a dueling piano event or looking for a unique venue in Rockford, Illinois, the Rockford Family Peace Center should be at the top of your list. With its rich history, stunning location, and commitment to supporting important causes, it's the perfect place to host an unforgettable event. And if you want to experience the magic of Felix And Fingers Dueling Pianos firsthand, be sure to reach out to them at (800) 557-4196.
So, mark your calendars and get ready for a night of music, laughter, and dancing. Let's create memories together and support a worthy cause at the Rockford Family Peace Center. Share this blog post with your friends and family, and let's spread the word about this incredible event!
{{ reviewsOverall }} / 5
Users
(0 votes)
Name
Address
Website
Email
Phone
Price Range
Venue

Burpee

Address

737 N Main St




Rockford

,

Illinois

61103-6966