Franchescos Ristorante wedding event ran like a well oiled machine. Among the different factors that must be considered in order to ensure a successful wedding, there are some which are simply essential. Since music is the backbone of your affair, it's also one of the most important choices to be made for your special day. Felix and Fingers delivered a knockout show! Being this was a local wedding, our performers had a short drive to Franchesco's Ristorante located in Rockford, Illinois. Congratulations Lindsay and Michael!
Franchescos Ristorante Wedding Event Rockford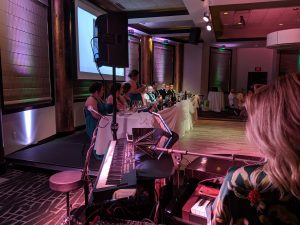 Our performers for Franchescos Ristorante wedding event were Jennifer Lee Knuth and Duncan Parker. For one thing, this energetic team will leave your guests wanting more! Franchesco's Ristorante is a historical venue in a unique ambient. In fact, at 89 years of age, Frank Salamone, the family patriarch, continues to prepare his original sauces and dishes attracting guests from all corners of the country. If you would like to make reservations at Franchesco's Ristorante please click here.
Guests were greeted by a table holding cloth squares for them to sign, these pieces of fabric would eventually be made in to…you guessed it…a quilt. This was a smaller banquet room but we have to say we looked GREAT set up! Smaller than a band, same BIG LIVE sound! Cocktail hour was in a theater-esque room across the foyer. We LOVE to see cocktails in a different room. In fact, it gives everyone a chance to mingle in a different ambiance. Songs such as Better Together by Us the Duo and Collide by Howie Day were a hit with the crowd indeed. Furthermore, our super duper wireless speaker system allowed everyone to enjoy cocktail music from the banquet room. We LOVE the fact we can go wireless!
Organized Dancing All Night Long!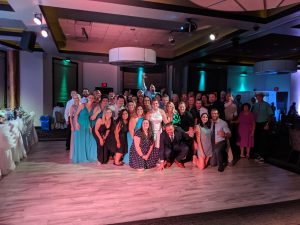 Dinner was delicious. Franchesco's Ristorante is a high-end Mediterranean venue. It's also one of the region's finest dining and banquet facilities. The homemade pasta dishes had everyone sitting down to a FEAST. Duncan and Jennifer played light dinner music as guests enjoyed their meal. From instrumental songs, to upbeat tunes such as Worldstop by Roy English, our performers had their audience enjoying a great variety of tunes. After first dances and speeches, the bride had us announce a dance with her brother. One of our performers is really close with their brother, so this was a special moment as we played You've Got a Friend by James Taylor.
Everyone danced and sang at Franchescos Ristorante wedding event! This crowd loved to line dance. There was a guest who knew ALL the line dances. He kept requesting one after another. Songs such as Achy Breaky Heart by Billy Ray Cyrus had guests up on their feet and dancing. Now that we think of it, we did a TON of organized dances. Above all, Duncan did his thing where he has all the married couples go to the dance floor. Each guests leaves and goes back to their table after Duncan says the number of years they've been married. When he got to the end, it ended up being the bride and groom's grandparents left standing. 65 years married! Congratulations!
Contact Us
Felix and Fingers had a BLAST performing at Franchescos Ristorante wedding event. Everyone was so nice to us and our client was so HAPPY with out successful show. The last song of the evening was Leaving on A Jet Plane by John Denver. We thought that was a cute choice being that the bride and groom were leaving on a jet plane for their honeymoon! Want us to bring the FUN to your next special event? Send us an email to info@felixandfingers.com or click here for more information. We look forward to hearing from you soon!
{{ reviewsOverall }} / 5
Users
(1 vote)