Summer Camp Sing-along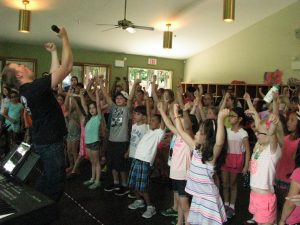 Just last week Adler Day Camp in Libertyville invited us to entertain at their summer camp for kids.  If you know anything about me, you'll know that I was excited about this for one very specific reason.  It was Disney Themed.  I was pumped to be able to go play Disney songs for hundreds of pre-teens while they all sang with us!  If you don't believe me about my love of Disney, check other Disney blogs of mine here or here.
What Songs Did We Sing?
We had a lot of fun deciding on what songs we should perform for the summer camp.  Obviously "Let it Go" was going to be on this list.  We planned on closing the show with it, but we accidentally mentioned it and the kids started screaming as loud as they could for us to play it.  For the sake our our ears (and the many camp counselors) we moved it up in the set list.  About half the kids sang along while the other half covered their ears (mostly the kids ho were twelve and older.)
We sang "Supercalifragilisticexpialidocious" and had some fun at the end of the song.  We kept repeating the final chorus, making the kids sing it faster and faster each time.  We had many out of breath youngsters when we were finished.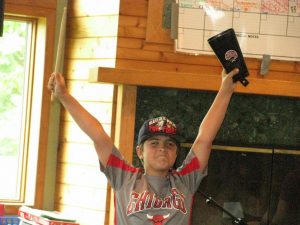 Maybe you've heard of our world famous Cowbell Competition, but we'd never done it at a summer camp before.  We had a few volunteers come up to show us their very best cowbelling while everyone else sang along to "Under the Sea."
We also played a few other games where the kids had to work with a partner and create letters of the alphabets with their bodies.  We do this with adults all the time, and somehow eight year old girls do much better than drunken bridesmaids at a wedding.
We definitely did "the Bare Necessities" for the Summer Camp attendees since the new film Jungle Book was topping the box office at the time.  Other favorites that the kids enjoyed were "Be Our Guest" from Beauty and the Beast and "Friend Like Me." from Aladdin.  And since "Let it Go" didn't give them enough Frozen, we also did "Do You Want to Build a Snowman?"
Summer Camp Comes to a Close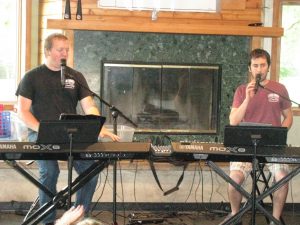 Well, finally summer camp was over.  For us.  Not the kids.  They had several more weeks.  After two sets of hundreds of screaming children, we were able to pack it all up and head home.  Many of the kids and counselors commented it was the best entertainment they had so far!  We had a lot of fun, as we do at all of our events.  If you are interested in how we can bring some fun to your party (Disney-themed or not), contact us today!
{{ reviewsOverall }} / 5
Users
(0 votes)