If you are dreaming of a one-of-a-kind experience, the Cafe La Cave wedding event will knock you off your feet! Not only is Cafe La Cave the definition of luxury and elegance, but this dreamy setting will have you speechless. Held in the venue's Grand Ballroom, this expansive area actually opened to an amazing outdoor terrace. Our performers for the Cafe La Cave wedding event were Jennifer Lee Knuth and Robert Deason. Felix and Fingers would like to wish Brittney and Craig a lifetime of love and happiness!
Cafe La Cave Wedding Event Des Plaines Illinois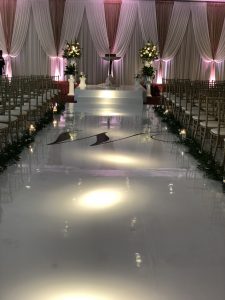 The set-up for the Cafe La Cave wedding event was incredibly extravagant and very well executed. This restaurant/banquet facility is indeed an UNBELIEVABLE space. Cafe La Cave is one of THE MOST desired dining and event destinations in the Chicagoland area. Furthermore, you have yet to find a facility which boasts one of the most distinctive Continental cuisines in the country. With it's convenient location near O'Hare International airport and near opulent hotels, your out of town wedding guests will experience a fabulous event. If you are interested in touring Cafe La Cave please click here.
The whole place, including ceilings and walls, created one of the most impressive backdrops we think we've ever seen. The Grand Ballroom began as a ceremony space wrapped in sumptuous fabric and lush colored lights. Even Randy, the wedding coordinator, was over-the-top. Randy took EVERYTHING seriously and asked us to help open the curtains so the wedding party could pass through. So on the count of 1..2..3..we helped opened the curtain before each couple entered to the beat of pre-recorded classical wedding music. The ULTIMATE wedding ceremony!
The flair, the flaunt and the fabulous was one way of describing the Cafe La Cave wedding event. After the ceremony, world-class staff turned the room over into a dance space in an insanely short amount of time. Therefore, the curtains came down and beautifully decorated tables were brought in. SO COOL! Randy and his impeccable team performed a REMARKABLE job transforming the space. Cocktail hour had a magical, romantic atmosphere as we played light background jazz during passed hors d'oeuvres and flowing champagne.
East Coast Style Wedding with Late Night Bites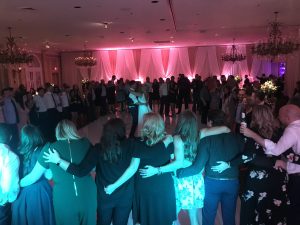 During dinner, dreamy and special details had guests in awe. For example, everyone enjoyed a short dance set between dinner and dessert for an "East Coast" style of wedding. It was a great way to keep guests from sitting too long and helped the flow of this evening tremendously. During this time, Felix and Fingers played background songs such as Someone Like You by Betsy Phillips, continuing with classics until the end of the main course consisting of Steak Diane followed by a delicious Cherries Jubilee. Pure DECADENCE!
Felix and Fingers were totally mesmerized by the Cafe La Cave wedding event. After speeches and first dances, the bride wanted everyone to PARTY. As a matter of fact, for the father/daughter dance, it started out very sweet with My Little Girl by Tim McGraw and then, Brick House by The Commodores came on. The dad kept dropping to his knees for insane dance moves and it was AMAZING. The request for AS MUCH 90's hip hop AS POSSIBLE was eagerly performed by our players. Songs such as Gangsta's Paradise by Coolio and California Love by Tupac Shakur had the dance floor PACKED all night long!
Above all, the bride and groom's late night bites were hot dogs and fries tucked into little buns from Gene and Judes. Undoubtedly, this couple thought of EVERYTHING as they even brought in Garrett's Popcorn to go! These were some of our most favorite Chicago delicacies. Before the grand exit, we gathered everyone in the room to circle around the bride and groom. Felix and Fingers played their signature Piano Man by Billy Joel as guest held hands swaying and singing around a blushing bride and proud groom. It was indeed a beautiful moment, and another successful gig in our books!
Contact Us
In conclusion, Felix and Fingers HIGHLY RECOMMEND Cafe La Cave for your next extraordinary gathering. The Cafe La Cave wedding event brought LOVE to a whole new level of opulence. The romantic scenes, atmospheric lighting and wonderful sights created a chic and unforgettable aristocratic party. If you'd like Felix and Fingers to perform at your next special event, please send us an email to info@felixandfingers.com or click here for more information on our show. We look forward to hearing from you soon!
{{ reviewsOverall }} / 5
Users
(0 votes)