The Chisox Bar and Grill hosted Danielle's birthday party last weekend, and Felix and Fingers took the drive down to the South side of Chicago.  We didn't bump into Leroy Brown I'm afraid….
I've always been a Cincinnati Reds fan, and since I've lived on the North side of Chicago for the last ten years, I've been to Wrigley Stadium dozens of times when the Reds come to town.  Though, in my years in Chicago, I have never actually been to US Cellular Field.  This weekend, as Felix and Fingers played our show at Chisox Bar and Grill at US Cellular Field, I realized that may be the closest I get to it for a while.
Chisox Bar and Grill
As soon as I walked in, the staff immediately showed me the best place to pull up to load in and then to park.  They were all incredibly nice, and definitely knew what they were doing.  In case you don't know, Chisox Bar and Grill is a bar connected to US Cellular Field.  It's probably packed the the brim during baseball season, but they close up shop in the winter months except for private parties.  One might concerned that the staff at a sports bar wouldn't know how to pull off a stellar private party, but one would be wrong.
From the food stations, to the passed hors d'oeuvres, everything was top notch at Chisox Bar and Grill.  They had a made to order pasta station, carved prime rib, roasted vegetable etc.  The staff were passing hors d'oeuvres, and though I didn't get to try them, I definitely saw some shrimp and bruschetta.  It was as classy of an affair as many of the weddings I've been to.  The atmosphere was absolutely perfect for Danielle's 40th birthday party, and I know it would be great for your upcoming parties as well!  Check them out here.
Party Time!
We started out the show, as we normally do, with our jazz set.  Everything went great, though admittedly I was watching the clock, excited to try some of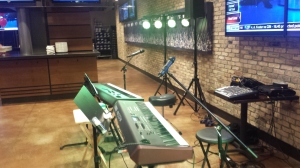 the delicious looking food when we were finished.  After we were finished (and had some food) Danielle's husband John and their three kids toasted her and set the stage for a night of fun.  Everyone started bringing up requests right away.  We got the typical "Sweet Caroline" and "Piano Man," and being White Sox territory, we were obligated to play "Don't Stop Believing."  We also got a few not so standard requests, such as "Gangsta's Paradise," and "The Real Slim Shady."  The dance floor cleared while Danielle's son gave a lesson in break dancing.  Check out the video below!  I should mention that he had some serious moves, and was break dancing pretty much all night.  Apparently there is no song where break dancing doesn't work.
Can't Wait to be Back at Chisox Bar and Grill
We had a blast, as we always do, playing for the party.  I definitely recommend Chisox Bar and Grill for any event you are holding, and we hope that if you do, you'll get in touch with us to entertain you!  Contact us here.
{{ reviewsOverall }} / 5
Users
(0 votes)