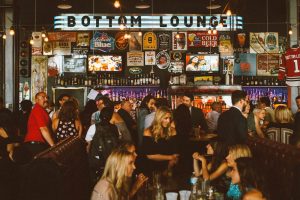 Chicago's vibrant music scene was taken to new heights on June 8th, 2023, as Bottom Lounge played host to an unforgettable Felix And Fingers Dueling Pianos event. This lively evening of entertainment was not only a night to remember but also a fundraiser for Lawyers for the Creative Arts, a law firm dedicated to supporting artists. The combination of talented musicians, delicious food, exciting raffle prizes, and an enthusiastic crowd made this event a true standout. Let's dive into the highlights of this incredible night!
A Venue That Hits All the Right Notes:
Bottom Lounge, known for its amazing live music experiences, provided the perfect backdrop for this dueling pianos extravaganza. With its spacious layout and state-of-the-art sound system, the venue was a match made in musical heaven. The outdoor space added an extra touch of charm, allowing attendees to enjoy the summer breeze while immersing themselves in the captivating performances.
Mouthwatering Delights for All Tastes
The night kicked off with a delectable spread of mini sliders and fries, satisfying the hunger of the enthusiastic guests. From classic cheeseburgers to mouthwatering vegetarian options, the food offerings catered to every palate. With their taste buds satisfied, attendees were ready to let loose and enjoy the lively atmosphere.
Raffle Prizes and Fun Requests
As the evening progressed, excitement filled the air as raffle prizes were announced. Attendees eagerly awaited their chance to win some fantastic goodies, adding an extra layer of anticipation to the event. From concert tickets to exclusive merchandise, the prizes had everyone on the edge of their seats.
The crowd's energy reached its peak when the dueling pianists took the stage. The small but mighty crowd at Bottom Lounge made sure to make their presence felt, requesting their favorite songs and singing along with enthusiasm. The infectious energy of the performers and the audience created an electric atmosphere that had everyone on their feet.
Supporting Artists and Having a Blast
This Felix And Fingers event was not just about the music; it was also a meaningful fundraiser for Lawyers for the Creative Arts. Supporting a cause close to their hearts, attendees reveled in the knowledge that their enjoyment was contributing to the representation of artists in need. The event provided an opportunity to connect with like-minded individuals who shared a passion for both music and the arts.
The Felix And Fingers Dueling Pianos event at Bottom Lounge was an absolute hit. From the incredible talent on stage to the mouthwatering food and exciting raffle prizes, every aspect of the evening was carefully curated to ensure a memorable experience. Whether you're considering booking a dueling piano event or looking for a venue that knows how to create an unforgettable night, Bottom Lounge should be at the top of your list.
If you're ready to add a touch of musical magic to your next event, don't hesitate to contact Felix And Fingers Dueling Pianos at (800) 557-4196. And don't forget to share this blog post with your friends and family to spread the word about this incredible night at Bottom Lounge!
{{ reviewsOverall }} / 5
Users
(0 votes)