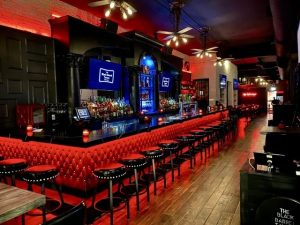 On January 26, 2023, the lively sounds of Felix And Fingers Dueling Pianos filled the air at Black Barrel Old Town, a very cool restaurant and bar nestled in the heart of Chicago's historic Old Town neighborhood. With its classic Old stage and a top-notch sound system, this venue was the perfect setting for an unforgettable evening of musical entertainment. Let's dive into the highlights of this dueling piano event and discover why Black Barrel Old Town is a must-visit destination.
A Memorable Performance
Under the warm glow of the stage lights, Felix And Fingers took the audience on a musical journey, captivating them with their incredible talent and infectious energy. The crowd at Black Barrel Old Town was incredibly responsive, singing along and requesting their favorite songs throughout the night. It was evident that everyone was having a blast, enjoying the music to their own discretion. The staff at Black Barrel Old Town were not only friendly but also attentive, ensuring that guests had a fantastic experience from start to finish.
A Venue with Character
Black Barrel Old Town boasts a unique atmosphere, with different areas in the restaurant offering distinct vibes. Whether you prefer a cozy corner or a lively spot near the stage, this venue has something for everyone. The sound system, which extends throughout the entire restaurant, ensures that every guest can fully immerse themselves in the dueling piano experience. The intimate size of the stage allowed for an up-close and personal performance, creating a truly memorable evening.
Delicious Delights
While the focus of the evening was undoubtedly the dueling pianos, it's worth mentioning that the food at Black Barrel Old Town looked absolutely mouthwatering. Although the opportunity to indulge in their delectable dishes was missed, every plate that passed by showcased culinary excellence. With a menu that caters to a variety of tastes, Black Barrel Old Town is not only a destination for great music but also a food lover's paradise.
A Vibrant Location
Located in the vibrant Lincoln Park area, Black Barrel Old Town is situated in a prime spot surrounded by parks, restaurants, bars, and more. This makes it an ideal destination for a night out on the town. Whether you're a local or visiting Chicago, Black Barrel Old Town offers an experience that combines the best of entertainment, delicious food, and the lively atmosphere of the city.
If you're looking for a night of unforgettable entertainment, Black Barrel Old Town and Felix And Fingers Dueling Pianos are a winning combination. The recent event at this iconic venue showcased the talents of the dueling pianists and the friendly, attentive staff. With its unique atmosphere, delicious food, and prime location, Black Barrel Old Town is a must-visit destination for anyone seeking a memorable night out. Don't miss out on the magic—contact Felix And Fingers Dueling Pianos at (800) 557-4196 to book your own dueling piano event and share this blog post with your friends to spread the word about this incredible experience.
{{ reviewsOverall }} / 5
Users
(0 votes)