This past weekend, Dave and I had a wedding at the Onion Pub & Brewery in Lake Barrington, IL.  Typically I like to check my calendar far in advance to see where I'm going to end up over the coming weeks, and when I saw this one, I had to do a double take.  A wedding?  At a brewery?  Dave had already played there several times before but I didn't just want to take his word for how cool it is. The place was close enough that my curiosity got the best of me, and my boyfriend and I decided to check this place out for a lunch date a few weeks in advance.  (After all, it's a killer pub/restaurant, too!)
The Onion Pub & Brewery; Wild Onion Brewing Co.
It seriously took us an unreasonable amount of time to choose what we wanted to eat from their amazing food menu.  Thankfully, they took our drink orders first, and I actually recognized some of their beers from the Wild Onion Brewing Co.  (Ever heard of Hop Slayer?  That's them!)  As it was fall, I couldn't help myself and tried out their seasonal Pumpkin Ale (which is not normally my first choice, but theirs is very enjoyable!)  We ended up getting something from just about every section of the menu, and were not disappointed.  The atmosphere was great, too!  The pub itself is a fairly large space, but it has a nice cozy feel to it that doesn't make you feel overwhelmed.  Overall, I highly recommend it as a date spot 😉
The Great Hall
The staff at the Onion Pub & Brewery was so darn friendly, I asked if we could check out the Great Hall where the wedding was to take place.  They were more than happy to show us around!  The Great Hall at the back of the Onion Pub & Brewery is completely breathtaking.  The room overlooks a gorgeous pond behind the brewery, which would normally be enough to stare at all night, but the rest of the hall is so pretty you won't run out of things to look at!  If I could think of a comparison, it would be like being at Beer Hogwarts.  The hall had its own full service bar decked out with amazing wood detail, and a smaller one at the other side of the dance floor (I had a feeling this would be a floor I'd revisit soon!)  On top of its already stunning visual appeal, we learned that all the wood (and there was a LOT in this room) was from trees which had already fallen, so no trees were harmed in the creation of this amazing space!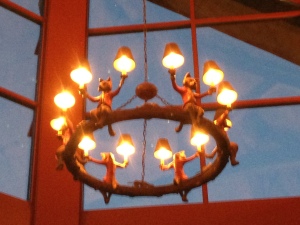 It's Weddin' Time!
Fast forward to this past weekend, Dave and I arrived early to set up for one of the first Felix and Fingers weddings I'd ever played at a venue I'd actually been to previously.  No surprise, the staff was enormously helpful and it was clear their goal was to make this a very special day for our bride and groom, and no wonder!  The Onion Pub & Brewery is no stranger to hosting weddings.  They offer in-house catering, wine service, and MUCH more in their Wedding Package.  Felix and Fingers essentially has one main objective at weddings, and that's to make sure guests have a great time- especially the bride and groom.  It makes our job so much easier when the venue has the same goal!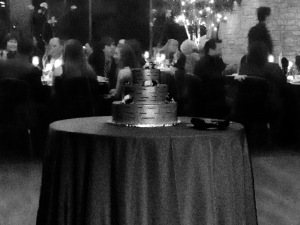 By the time it was time to duel, everyone was already in a great mood after an amazing meal and some great drinks (what else would you expect from a brewery?!)  I don't think the dance floor was empty for a moment after the first dances, and some sweet family touches throughout the evening made the night really special.  We were still taking requests through the end of even our DJ portion- 3 hours after the dancing began!  The happiness in the room was contagious and as Dave and I were packing up in a whistle-while-you-work fashion at the end of the night, a long-time family friend came up to thank us for the performance.  Personally, I was curious as to how they'd picked the venue because I was surprised I'd never heard of the Onion Pub & Brewery before recently.  As it turns out, it's where the bride and groom actually had one of their first dates!  After having been there in that setting myself, it made complete sense that they returned for their special night.
Contact Us
For more information on the Onion Pub, the Wild Onion Brewing Co, or their Great Hall, visit www.onionbrewery.com.  To book Felix and Fingers for your next event, contact us here.
{{ reviewsOverall }} / 5
Users
(0 votes)