The Pinstripes wedding event was located in South Barrington and followed a sophisticated fun theme. Felix and Fingers were hired to perform both ceremony and reception. Pinstripes is an extremely adaptable venue, therefore this location can be transformed to fit your style and theme. Furthermore, Pinstripes will offer a unique and memorable experience for you and your guests. Congratulations Kristen and Brandon, we wish you a lifetime of love and happiness!
Pinstripes Wedding Event South Barrington Illinois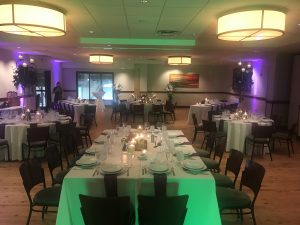 From the ceremony, to the reception, this venue offers beautiful spaces to hold your next special gathering. In fact, Felix and Fingers would like to give a shout out to the amazing staff at Pinstripes. Hard working employees will make sure you enjoy your special day celebrating along with friends and family.
The Pinstripes wedding event offered a unique dining experience with high-quality catering and bar service. Also, an event team will work alongside you and provide everything you need for your special mimosa filled day! If you would like a tour of Pinstripes in South Barrington, Illinois please click here. 
The entire Pinstripes wedding event was very nostalgic. Kristen and Brandon had set up tables with several of their favorite childhood sweets, toys and candies. Additionally, there were photos of the bride and groom when they were younger. We thought that was very "sweet". Our performers for the Pinstripes wedding event were Jennifer Lee Knuth and Jim Gritschke.
Normally, for outdoor weddings there is a rain plan. This time, we needed a heat plan! Unfortunately, due to the sweltering weather, the ceremony and reception needed to be moved inside. To tell the truth, Pinstripes staff made it all look incredible! Felix and Fingers performed classic wedding songs during a beautiful ceremony. For the recessional, Jennifer and Will played an amazing rendition of Best Day of My Life by American Authors. They had everyone up on their feet dancing while singing out loud!
Bocce Courts and Love Songs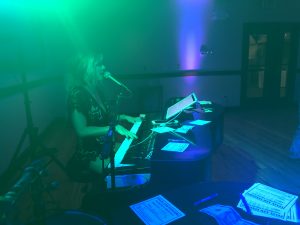 Cocktail hour happened on the inside bocce courts where guests could try their skills and order drinks from attentive servers. For the next 60 minutes, our performers kept the crowd happy with songs such as Dog Days are Over by Florence and the Machines. The Pinstripes wedding event featured bistro dining with exceptional Italian/American cuisine. In fact, this venue offers locally sourced ingredients in every dish.
From the pasta al dente, to the hot and juicy chicken, there was a great use of spice and flavor. Above all, Pinstripes desserts were so delicious they could make your heart stop. We loved the seasonal raspberry gelato! Felix and Fingers kept the dance floor packed with song requests such as Just the Way You Are by Bruno Mars. Everyone had an awesome time indeed!
During dinner, the bride and groom opted to have guests stand up and sing songs about love if anyone wanted them to kiss…it made for a FUN night! The bride and her friends were all involved in choir and band. So, when our performers had guests sing kissing love songs, there was a sea of sound that echoed from the head table every few minutes! As the night wore on, the air conditioning was more than welcomed by all.
Felix and Fingers kept a cool, yet packed dance floor with 80's and 90's hits rocking I Want it That Way by The Backstreet Boys. On the other hand, a pile of requests for Michael Jackson had us organize Thriller with everyone dancing like zombies. It was AWESOME! There were so many silly and rowdy kids at the Pinstripes wedding event. We watched them slide across the floor and run around in circles all night long. Probably from too much of their favorite candy!
Contact Us
In conclusion, Felix and Fingers would like you to know that you can't go wrong holding your next special event at Pinstripes. Not only is this a sophisticated fun location, the food at Pinstripes is top notch! If you would like to hire Felix and Fingers for your next party, shoot us an email to info@felixandfingers.com or click here for more information. We look forward to hearing from you soon!
{{ reviewsOverall }} / 5
Users
(0 votes)