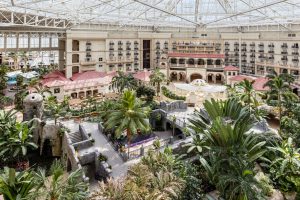 The Gaylord Palms Resort and Hotel in Orlando, Florida, recently hosted a corporate event that was filled with laughter, music, and unforgettable moments. Felix And Fingers Dueling Pianos took the stage on May 16, 2023, and brought their unique brand of entertainment to the eager audience. Let's dive into the highlights of this incredible evening!
Table 5 right in the front gave us a bunch of fun requests right from the start. It was clear that this group was ready to let loose and have a great time. From classic hits to modern favorites, the dueling pianists were more than happy to oblige and keep the energy high.
Jonathan had the best air guitar skills I've ever seen! As the pianos played, he rocked out with his invisible guitar, captivating everyone around him. It was infectious, and soon the whole room was joining in on the air guitar extravaganza.
Things started to get weird in a good way when Nate and I did a Miley Cyrus Britney Spears double shot. The crowd went wild as we seamlessly transitioned from one iconic pop hit to another. The energy in the room was electric, and everyone was singing and dancing along.
There was a great dancer in the audience, and we couldn't resist calling him out to point at people to dance. With his infectious moves and enthusiastic spirit, he got everyone on their feet and grooving to the music. It was a sight to behold and added an extra layer of excitement to the night.
One of the weirdest requests was the soundtrack to Interstellar! We were up for the challenge and delivered a mesmerizing rendition of the epic soundtrack. The audience was captivated, and it was a truly unique moment that showcased the versatility of Felix And Fingers Dueling Pianos.
The evening was a simple and fun affair, starting with a cocktail hour in the foyer adjacent to the main ballroom. Guests mingled, enjoyed delicious drinks, and set the tone for an unforgettable night. The Gaylord Palms Resort and Hotel provided the perfect backdrop for this lively event, with its stunning architecture and luxurious amenities.
During dinner, live instrumental pop piano was provided by our very own Jordan Peterson. His melodic tunes set the mood for a relaxed and enjoyable dining experience. Guests savored their meals while tapping their feet to the music, eagerly anticipating the dueling piano show to come.
Once the dueling piano show got started, this group was ready to have FUN! Singing along from the first few words, and having a ball with us as we played hits from the 70s and 80s, this group proved they were ready to party. Shout out to Table 5, who requested songs with the number 5 in them all night long, sometimes to hilarious results!
We LOVE our friends with Imprint Group – they are always a joy to work with. Holly and the folks with Altec are some of our favorite clients. Their enthusiasm and support made this event even more memorable.
If you're looking to host an unforgettable event, whether it's a corporate gathering or a special celebration, consider the Gaylord Palms Resort and Hotel as your venue. With its impeccable service, stunning surroundings, and top-notch entertainment options like Felix And Fingers Dueling Pianos, you're guaranteed a night to remember.
Don't miss out on the opportunity to experience the magic of dueling pianos. Contact Felix And Fingers Dueling Pianos at (800) 557-4196 to book your own unforgettable event. And don't forget to share this blog post with your friends and colleagues to spread the joy and excitement of this incredible night at Gaylord Palms Resort and Hotel!
{{ reviewsOverall }} / 5
Users
(0 votes)