Nestled in the picturesque town of Granby, Colorado, Sun Outdoors Rocky Mountains played host to a truly unforgettable event on July 29, 2023. The venue was abuzz with excitement as Felix And Fingers Dueling Pianos took the stage, captivating the crowd with their energetic performance. This blog post takes you behind the scenes of this extraordinary wedding celebration, highlighting the venue's features, the incredible musical talent, and the overall experience that left everyone in high spirits.
A Night to Remember
From the moment Felix And Fingers started playing, it was clear that the crowd was ready to party. The lively atmosphere and infectious energy kept guests on their feet, dancing the night away. The duo's seamless blend of classic hits, modern favorites, and even a touch of fiddle, courtesy of the talented Alex, ensured that there was something for everyone to enjoy.
Flexibility and Accommodation
Despite some last-minute changes, the duo seamlessly adapted their performance to meet the couple's requests. The ability to accommodate these changes without a hitch is a testament to Felix And Fingers' professionalism and dedication to providing an exceptional experience. The client's assistance in selecting songs further contributed to the overall success of the evening, ensuring that everyone felt comfortable and engaged.
Sun Outdoors Rocky Mountains: A Dream Venue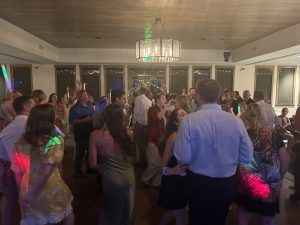 The Sun Outdoors Rocky Mountains venue provided the perfect backdrop for this joyous occasion. With its stunning natural surroundings and convenient location, it was easy for guests to get in and out of the venue. The friendly staff on-site made everyone feel welcome, and the complimentary food and drinks added an extra touch of hospitality to the event. The venue's reputation for excellence makes it worth considering for future events or as a vendor recommendation.
Capturing the Spirit of the Wedding
The positive atmosphere extended beyond the music and venue. The bride's mother, in particular, was extremely pleased with the performance and showed her appreciation by tipping the duo at the end of the night. The genuine happiness and comfort felt by all in attendance created an unforgettable experience that will be cherished for years to come.
Contact Felix And Fingers Dueling Pianos
If you're considering booking a dueling piano event or are interested in the Sun Outdoors Rocky Mountains venue, don't hesitate to reach out to Felix And Fingers Dueling Pianos at (800) 557-4196. Their exceptional talent, flexibility, and ability to create a memorable experience will undoubtedly make your event one to remember.
The Felix And Fingers Dueling Pianos event at Sun Outdoors Rocky Mountains in Granby, Colorado, was an absolute hit. From the lively music that kept guests dancing all night to the exceptional service provided by the venue's staff, every aspect of the evening was a testament to the power of music and celebration. Whether you're planning a wedding or any other special event, consider the magic of dueling pianos and the incredible experience offered by Felix And Fingers.
{{ reviewsOverall }} / 5
Users
(0 votes)