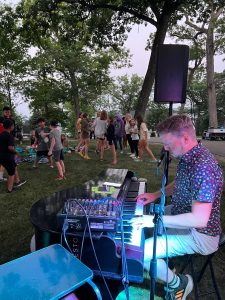 Camp One Step in Williams Bay, Wisconsin, recently hosted a spectacular dueling pianos event that left everyone in awe. The event, organized as a fundraiser for the siblings of children dealing with cancer, brought together a vibrant community for a night of music, laughter, and pure joy. Held at the stunning Conference Point, overlooking the picturesque waters of Williams Bay, this unforgettable evening was filled with incredible performances, heartwarming moments, and plenty of surprises. Let's dive into the highlights of this extraordinary dueling piano experience!
Fun for All at Camp One Step
The atmosphere at Camp One Step was electric as the dueling pianos took center stage. With the siblings of children dealing with cancer as the special guests, the event was a celebration of their resilience and strength. The camp provided a safe and supportive environment for these incredible kids to come together and have an amazing time. The joy and excitement were palpable, creating an unforgettable experience for everyone involved.
Music, Dance, and Sing-Alongs
From the very first note, Felix And Fingers had the crowd on their feet. The talented pianists took requests from the audience, and the kids had impeccable taste in music! Classic rock tunes and fun dance requests filled the air, keeping the energy high throughout the night. The siblings sang along to their favorite songs, creating a magical atmosphere that resonated with the spirit of Camp One Step.
Unforgettable Moments and Surprises
As the night progressed, Felix And Fingers treated the audience to a Disney Mash-up that included beloved songs from Frozen, The Little Mermaid, and The Lion King. The campers couldn't help but join in, belting out the lyrics with pure joy. But the surprises didn't end there! The pianists were amazed when the kids started requesting songs by Disturbed and Queen, showcasing their diverse musical knowledge and love for all genres. And in the middle of the show, ice cream was passed out to everyone, adding a sweet touch to an already incredible evening.
The Felix And Fingers Dueling Pianos event at Camp One Step in Williams Bay, Wisconsin, was a night to remember. The combination of beautiful weather, breathtaking scenery, and the infectious energy of the campers created an atmosphere that was nothing short of magical. This fundraiser brought together a community that supports and uplifts the siblings of children dealing with cancer, providing them with a much-needed break from their daily challenges. If you're considering hosting a dueling piano event or looking for a venue that fosters positivity and joy, Camp One Step is the perfect choice.
Contact Felix And Fingers Dueling Pianos at (800) 557-4196 to bring the magic of dueling pianos to your next event. Share this blog post with others to spread the word about the incredible experience at Camp One Step. Together, we can make a difference and create unforgettable memories for those who need it most.
{{ reviewsOverall }} / 5
Users
(0 votes)