Welcome to West Bend, Wisconsin, and our West Bend Mutual Insurance Fundraiser Event! Everyone undoubtedly had a blast singing, dancing, and making great memories. Of course, our show was a hit. This fun-loving crowd definitively went home happy!
West Bend Mutual Insurance Fundraiser Event West Bend Wisconsin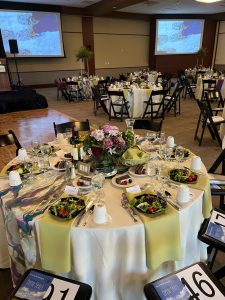 Let's start by simply saying West Bend's campus is so beautiful. Complete with a gazebo overlooking sparkling water. West Bend Mutual Insurance is also an organization that places high value on relationships.
Many West Bend employees have personally embraced this charitable culture. Not only do they volunteer, but to more than 125 organizations!
Felix arrived at the West Bend Mutual Insurance Building for this fundraiser. Holy gorgeous insurance building! There's a patio overlooking a pond and sprawling hills. As if this wasn't enough, there were fresh floral arrangements everywhere. Imagine a perfect cocktail hour. Etta James' At Last was crooned by our performer as delicious appetizers were served. If you'd like further information on West Bend Mutual, please click here.
An Unforgettable Fundraiser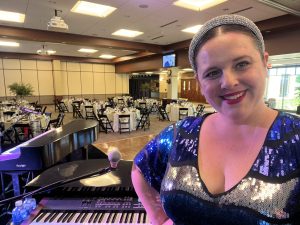 West Bend Mutual held this fundraiser to help out with The Cedar Lakes Conservation Foundation. This foundation has a mission of preserving the natural environment of the Cedar Lakes Region, butting against housing and commercial development to save the land. West Bend currently protects 20% of its land in its target area. Felix would like you to know The Cedar Lakes Conservation Foundation will be seeking 25% (on the horizon). If you'd like to donate to The Cedar Lakes Conservation Foundation, please click here.
Some great raffle prizes such as boat tours on the lake along with food and wine tastings and custom knit pillows featuring the CLCF logo stole the show. We thought they were NEAT! Let's not forget about the staff at our West Bend Mutual Insurance Fundraiser Event. Not only were they very nice, but so helpful. Thank you to everyone that made this fundraiser happen!
After dinner, Kathleen belted out Aretha Franklin's You Make Me Feel Like a Natural Woman. She nailed it. The entire crowd was singing at the top of their lungs. It sounded like a professional concert! Of course, there was a very nice round of applause after her performance. Felix and Fingers played a notably awesome mixture of sing-along and romantic songs for their crowd right after dinner. Jake got the crowd going with Come on Eileen by Dexy's Midnight Runners. Would you believe a group of about 20 guests started a Can-Can during the Toora Loora's of the bridge? We loved it!
Finally, the best part of our West Bend Mutual Insurance Fundraiser Event? They raised over $200,000.00 to protect Wisconsin farmland. We thought that was impressive! Nicely done indeed. Glad Felix could help!
Contact Us
In the meantime, if you're searching for a #1 online rated dueling piano show, you've come to the right place. Feel like hiring Felix? Shoot us an email at info@felixandfingers.com. Do you require additional information on our players and gig? Click here and check out why we're so awesome! Felix looks forward to hearing from you soon!
{{ reviewsOverall }} / 5
Users
(0 votes)