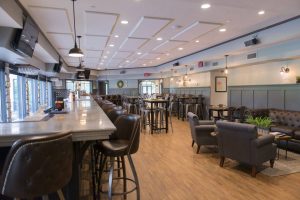 The Rock Golf Club in Waupun, Wisconsin, recently hosted an unforgettable dueling pianos event by Felix And Fingers. On November 10, 2023, this corporate event brought together employees for a night of laughter, great food, and fantastic music. With a stunning reception in the club's gorgeous space, the evening was filled with fun requests and even a surprise appearance by the Grinch himself. Let's dive into the highlights of this exciting event!
A Festive Pre-December Celebration
Pre-December holiday parties are always a hit, and this event at The Rock Golf Club was no exception. By hosting the event before the busy holiday season, the organizers ensured that all employees could attend without the stress of conflicting schedules. It was the perfect opportunity for everyone to let loose and enjoy a night of entertainment.
Delicious Food and Hilarious Hijinks
The Rock Golf Club didn't disappoint when it came to the culinary experience. Attendees were treated to a mouthwatering dinner featuring delicious chicken and turkey. The food was incredible, leaving everyone satisfied and ready for an evening of entertainment.
As the dueling pianos began, the fun requests started pouring in. From Queen to Bubba Sparxxx, the talented pianists from Felix And Fingers played an impressive range of songs, keeping the crowd engaged and energized throughout the night. The lively atmosphere had everyone singing along and dancing to the beat.
However, the highlight of the evening came when one of the CEO's friends decided to add a touch of mischief. Dressed up as the Grinch, he made a surprise appearance during dinner, attempting to steal the CEO's food. The hilarious prank had everyone in stitches, creating a memorable moment that will be talked about for years to come.
The Perfect Venue for an Unforgettable Night
The Rock Golf Club provided the perfect backdrop for this dueling pianos event. With its stunning reception space, the venue added an extra touch of elegance and charm to the evening. Located in Central Wisconsin, The Rock Golf Club offers a beautiful setting that enhances any event, making it a popular choice for corporate gatherings and celebrations.
If you're looking to host a corporate event that will leave a lasting impression on your employees, consider a dueling pianos event at The Rock Golf Club. The combination of fantastic music, delicious food, and a stunning venue creates an unforgettable experience. Contact Felix And Fingers Dueling Pianos at (800) 557-4196 to book your own incredible night of entertainment. And don't forget to share this blog post with your colleagues to get them excited about the possibilities!
{{ reviewsOverall }} / 5
Users
(0 votes)