Niki and Dustin left everyone with beautiful memories at their Oldenburg family farm wedding event. We LOVED the gorgeous bouquets filled with an array of summer sunflowers and daisies! Our performers for this special occasion were Robert Deason and Jim Gritschk.  Our amazing players were so EXCITED to perform at this family's farm located in La Crosse, Wisconsin.
We'd like to point out how darling was it that the Oldenburg family so lovingly included their dogs. Felix and Fingers are always fans of when couples include their furbabies on their big day. These 3 "Dogs of Honor" wandered the property and gave love to all the guests. Felix and Fingers would like to wish Niki and Dustin a lifetime of love and happiness!
Oldenburg Family Farm Wedding Event New Salem Wisconsin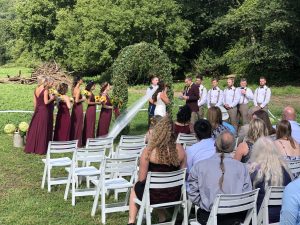 Picture celebrating your special day on your own private farm (owned by the parents of the groom) surrounded by family and friends. Not only did mother nature set the perfect backdrop for the Oldenburg family farm wedding, but we got lucky with an absolutely gorgeous day! To begin with, Niki and Dustin held their ceremony literally on the other side of this vast property. The lovebirds exchanged vows in a beautiful cleared out cornfield area surrounded by high rock walls.
Due to the remote location, there was no electricity on site, so we provided a backup battery for our microphone and speakers. This allowed us to play a variety of instrumental background music during the ceremony. It served their needs PERFECTLY! And get ready for this…transportation for the bride and her father to the ceremony site was by an amazing ornate carriage. Not only was it drawn by beautiful show quality horses, but they were from the groom's family farm. SO COOL!
Fast forward to cocktail hour, held in a shed/barn specifically built for the Oldenburg family farm wedding event and future events to come. This shed/barn took the cake for its charming feel. We loved the perfectly transformed barn and it's ability to become an ideal space for this rustic celebration. More brownie points for owning something so amazing. In addition to two signature cocktails, the bride and groom provided the most important Wisconsin delicacy…Spotted Cow beer!
The Oldenburg family farm wedding event allowed everyone to roam freely on beautiful grounds while capturing the best photos on their special day. During this time, Felix and Fingers kept everyone happy playing song requests such as Chicken Fried by the Zac Brown Band and Amazed by Lone Star. We loved the laid back feel of this FUN event!
Dancing All Night and Fun Family Surprises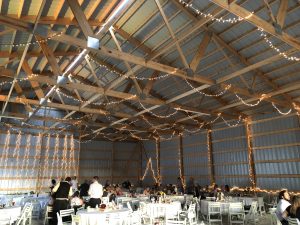 At the Oldenburg family farm wedding event one of our players actually had family present. Our performer's cousins were also cousins of the groom! Can you imagine our SURPRISE as they came up from behind and gave BIG HUGS?! We've had friends who've attended our dueling piano events, but this is the first time we've had family. It was so AWESOME to reconnect! We also LOVED there were activities for all ages to enjoy at the Oldenburg family farm wedding. For example, kids were driving their own little electric cars and tractors around the property. It was TOO CUTE!
From the moment we laid eyes on the inside of this barn we were smitten. It was simply stunning. In fact, everywhere we looked there were exposed wood beams and warm gold lights. In addition to the lighting, hammered metal buckets were placed around our pianos overflowing with fresh hydrangeas. A beautiful touch indeed!
After dinner, our performers played lots of current pop and hip hop requests. Songs such as Havana by Camilla Cabello and Clout by Cardi B were BIG HITS with some of the younger guests. Above all, Robert and Jim knew how to keep a party hopping so they played a fantastic variety of disco medleys to keep both families dancing all night long. Everyone had a BLAST!
Contact Us
In conclusion, Felix and Fingers want you to know we LOVE playing private parties. Even more so at gorgeous barn occasions such as the Oldenburg family farm wedding. As a matter of fact, everyone was SO NICE and accommodating we felt like family (since we technically were!). Above all, the groom's father invited us to join their bonfire and games of beer pong at the end of the night. We want to give a big THANK YOU to everyone at this SUPER FUN wedding event!
If you'd like to hire Felix and Fingers for your next special event, shoot us an email to info@felixandfingers.com or click here for more information on our #1 rated dueling piano show. We look forward to hearing from you soon!
{{ reviewsOverall }} / 5
Users
(0 votes)