A Weekend In Milwaukee
Being a traveling professional musician puts miles on our vehicles, and also on us personally, so when we get to hang out in the same city for both Friday and Saturday gigs, we appreciate it! Also, we get to explore a little bit. On Friday, Robert and I played at Rosatti's Tavern in Downtown Milwaukee. Felix and Fingers plays at the Rosatti's Tavern all over the area on Friday nights. Go to Felix and Fingers.com to check out when and where we are playing, and get some great pizza as well!  Saturday was all about Milwaukee Barrel madness.
The Big Day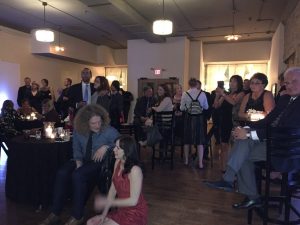 Megan and Peter's wedding reception was held at The Box MKE in Downtown Milwaukee, and we were instantly impressed with how simple and elegant the space was. It was a perfect size and set up for a relaxed bride and groom, and an awesome Dueling Pianos Dance Party. (Or DP2 as we say….)
Strokin'
So, we get odd requests sometimes when going into gigs. Things like, "my father wrote a song for you to sing", or "My best man is excellent at Clarence Carter's Strokin' Karyoke….Can that even happen?". Either way, Felix and Fingers is ready and willing to be as original and weird as you want us to be! In this particular instance, the weirdness came in the latter example. Here, a performance of the wonder that was "Strokin'".
Roll Out The Barrel Wedding?
As some people may know, there is a tradition at Brewer Stadium called "Roll Out The Barrel". This tradition basically consists of a bunch of people dressed up as really tall sausages, and running a race. To be honest, I have no idea what the attraction is. I was utterly confused when halfway through the wedding, THEY ALL RAN INTO THE ROOM!
Honestly I'm not even sure what exactly happened after that, but I do know that the people inside of the sausages decided to stay at the wedding for a number of additional songs. These included, but were not limited to, Uptown Funk, Bennie and The Jets, and, Thinking Out Loud. Needless to say this wedding was unforgettable.
Contact Us!
Be sure to like us on Facebook, follow us on instagram and twitter, (@felixandfingers) and visit us at FelixandFingers.com to catch us at all of our public shows, and to book YOUR event!
{{ reviewsOverall }} / 5
Users
(0 votes)