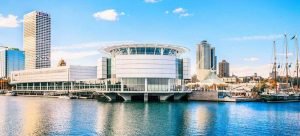 When it comes to hosting a corporate event that leaves a lasting impression, few venues can match the charm and excitement of Discovery World in Milwaukee, Wisconsin. On June 6, 2023, Felix And Fingers Dueling Pianos brought their electrifying performance to this private event space within one of Milwaukee's favorite museums. With gorgeous lakeside views, delicious food, and a night filled with dancing and singing, this dueling piano event was an unforgettable experience.
A Scenic Setting with Lakeside Views
Nestled on the shores of Lake Michigan, Discovery World offers a stunning backdrop for any event. As guests arrived at the private event space, they were greeted by panoramic views of the glistening lake. The combination of the beautiful space and the lively dueling pianos set the stage for an evening of pure entertainment.
Delicious Food and Fun Prizes
To complement the musical extravaganza, Discovery World served a delectable array of appetizers. Mini grilled cheese and tomato soup were a hit among the attendees, providing a comforting and tasty treat. But the culinary delights didn't stop there! The event also featured mouthwatering mini cheesecake bites that left everyone wanting more.
Adding to the excitement, Felix And Fingers gave away fun prizes from a bowling outing that took place earlier in the day. The lucky winners were thrilled to receive their rewards, adding an extra layer of enjoyment to the already lively atmosphere.
Dancing, Singing, and Great Requests
One thing is for sure – when Felix And Fingers Dueling Pianos take the stage, the crowd can't help but get up and dance! The energy in the room was contagious as people let loose and showed off their best moves. From classic sing-alongs to modern hits, the talented pianists played a wide variety of songs, catering to everyone's musical tastes. Requests flowed in, and the performers skillfully brought each song to life, making the event an interactive and engaging experience for all.
A Memorable Night at Discovery World
As the evening came to a close, the guests couldn't help but express their enthusiasm for the event. The combination of the dueling pianos, the breathtaking lakeside views, and the vibrant atmosphere made for an unforgettable night. Many attendees even expressed their desire to return during business hours to explore the fascinating exhibits at Discovery World.
If you're looking to host a corporate event that leaves a lasting impression, Discovery World in Milwaukee, Wisconsin, is the perfect venue. With its stunning lakeside views, delicious food, and vibrant atmosphere, it sets the stage for an unforgettable experience. Contact Felix And Fingers Dueling Pianos at (800) 557-4196 to bring the magic of dueling pianos to your next event. And don't forget to share this blog post with your friends and colleagues to spread the word about this incredible night of dancing, singing, and lakeside views at Discovery World!
{{ reviewsOverall }} / 5
Users
(0 votes)