The Madison Concourse Hotel wedding event was no ordinary affair. If you are searching for a premiere setting, check out The Madison Concourse Hotel and Governor's Club located in Madison, Wisconsin. Felix and Fingers highly recommend taking a tour of this hotel. We've performed at this hotel before and it's indeed AMAZING! With over 370 rooms and 27,000 sq feet of event space, this hotel has EVERYTHING you need for your special day. Congratulations Margaret and TJ!
Madison Concourse Hotel Wedding Event Wisconsin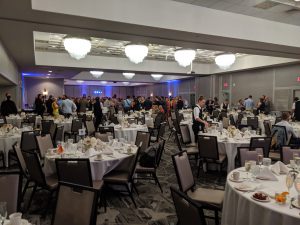 The Madison Concourse Hotel wedding event offered sophistication and expert personal service during Margaret and TJ's reception party. A friendly and experienced catering staff helped with every detail of this party including flowers, linens, decorations and more. Hence, it's no surprise that The Madison Concourse Hotel and Governor's Club is one of the top destinations for weddings in Madison, Wisconsin.
Furthermore, this historical hotel offers a blank canvas for you to customize your dream wedding. With newly expanded rooms, you can throw a party for over 200 guests comfortably. The Madison Concourse Hotel guarantees wedding jitters to be a thing of the past. A wedding team will hold your hand with a one-point contact from beginning to end. If you would like a tour of The Madison Concourse Hotel please click here.
Felix and Fingers appreciated Mary and John (Madison Concourse staff) for being so thorough and helpful in setting us up. Our performers for The Madison Concourse Hotel wedding event were T. Duncan Parker and Jim Gritschke. They received every piece of information, accepted help moving equipment and had all their boxes checked thanks to the Mary and John power team! We started with a complimentary champagne toast for arriving guests and moved into requested jazz/pop for cocktail hour. Felix and Fingers thought Postmodern Jukebox was a GREAT choice! Our performers selected hand-picked love songs from the pop world done in a jazz style. Everyone LOVED it!
A Rowdy Night to Remember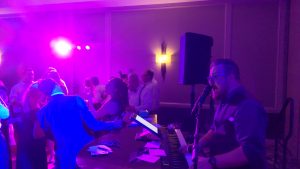 The Madison Concourse Hotel wedding event was a crazy night to remember. The bride and groom work at UW Madison, so you could bet there was some huge Wisconsin pride at this gathering. Dinner featured local and organic ingredients. The Madison Concourse Hotel wedding event was hosted by the hotel's very own Chef Charles. This culinary genius outdid himself with grilled Angus hanger steaks and roasted garlic butter chicken. Fine dining at it's best!
After a few romantic speeches and cake cutting, our performers played a beautiful rendition of Marry Me by Train for the couple's first dance. What is more, everyone FLOODED the dance floor by the end of this song and stayed there!  As the evening progressed, the Madison Concourse Hotel wedding event got rowdy. As a matter of fact, VERY rowdy. About 5 shirts were lost in the first 30 minutes. There was a guy that resembled Pitbull burning up the floor to Rain Over Me. In fact, this wild guest couldn't find any rain so he poured a beer over himself by the end of the song. Not only did the crowd go WILD, but a few followed in his footsteps!
After Pitbull's crazy act, our performers divided the room, eventually having guests sing to Bohemian Rhapsody by Queen. Much to our surprise (not really), the crowd got wildly aggressive with the headbanging part of the song. In order to get the bride and groom to kiss, besides clinking glasses, our performers had the crowd sing I'm a Believer by The Monkees. To be honest, that was definitely a highlight throughout the evening! By the way, one can use a little pick me up near the end of a wedding night. Therefore, late night snacks are perfect to tide you over from the night's festivities, and the pizza that showed up actually hit the spot!
Contact Us
In conclusion, the Madison Concourse Hotel wedding event was one huge and crazy party. Above all, the bride and groom were super in love and had SO MUCH FUN the entire night! Felix and Fingers had a GREAT time with all of their weird and wild friends. We loved it when everyone danced and sang with us, the crowd was really into it. If you would like to hire Felix and Fingers for your next special event shoot them an email to info@felixandfingers.com or click here for more information. We look forward to hearing from you soon!
{{ reviewsOverall }} / 5
Users
(1 vote)