What is a great birthday present for the girl who has everything?  Well, how about her own private Felix and Fingers Dueling Piano Show?!  Yes, this Lake Geneva 50th Birthday Party was just for Michelle and twelve of her closest friends.
Lake Geneva 50th Birthday Party
If you've read our blog posts for a while, you know that most of our shows are for large groups.  But that is not always the case.  Sometimes we do much smaller private events and we find those to be just wonderful.  Small affairs really give us the chance to get to know our clients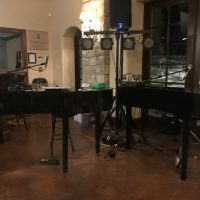 personally.  Our performers are incredibly grateful to be a part of some very personal moments for so many different people.  Twelve of Michelle's friends threw her an awesome party, and while it was probably our smallest event ever, it will always be one of our favorites.
The ladies came from all over the country.  They met at the clubhouse for one of Lake Geneva's premier subdivisions.  And this is where you will see how dedicated your F & F performers are.  Since there was no access to the club house by car our performers, Jennifer and Robert, had to load up using a golf cart.  Yes, a golf cart for two pianos and equipment.  In the snow.  Pitch dark.  And with a temperature of about ten degrees.  Once they reached the clubhouse, they had to enter using an outside, ice covered stairway.  Somehow, they were laughing the whole time and whenever they become challenged in the future, they will just remember how they conquered "THE STAIRCASE OF DOOM."
Small Party/Big Fun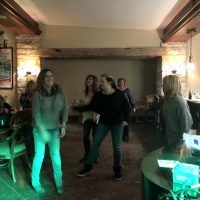 This may have been a super small event for us but these ladies knew how to get down.  We loved playing for them!  Also, we now feel that we have some new lifelong friends.  Michelle is a huge Stevie Nicks fan so we played a ton of Fleetwood Mac throughout the night.  Prince and other artists from the 80's were also a huge hit with this fun group of girls.  You should have seen them letting loose with Little Red Corvette.  What a memorable night it was.  Also,click here for one of Lake Geneva's private catering companies.  For Michelle's Lake Geneva 50th Birthday Party, we had a simple meal of sliders, chicken sandwiches, and a divine assortment of desserts.
Contact Us
Michelle's Lake Geneva 50th Birthday Party was so much fun.  Small events are special in a way that large events just can't be.  So whether you're planning a large party or a small one, we've got you covered.  Click here to find our contact information and to read more about Felix and Fingers Dueling Pianos.
{{ reviewsOverall }} / 5
Users
(0 votes)