Recently, Felix & Fingers (Myself and Mike P) were commissioned by a prospective Bride and Groom to handle their entire wedding from Ceremony to Reception. Their venue of choice? None other than Hawk's View Golf Club in Lake Geneva. This place was born to host beautiful weddings.  An attached outside pavilion is perfectly positioned to have seamless transition from a largely attended ceremony right into the festivities held in the grand banquet room.
It's always fun to try some new setups and satisfy the tech side in ourselves. Notice how there aren't any messy cables running up and down the floor? One of the newest services we offer is wireless speaker setups!  We were able to run sound with 2 wireless mics AND a wireless speaker, all from inside over 100 feet away!.  This was such a nice feature to have as we didn't need to be outside in view of all of the guests. Needless to say, the ceremony came and went without a hitch…except for the Bride & Groom, of course.  Everyone poured into the dining room to catch up with old friends and family members and get a nice taste of live Jazz with their specialty cocktails.
The Hawk's View Ballroom
The ballroom and dining room have the quintessential log cabin look and gives a warm presence to all who bask in its ambiance. Greatly adorned with white sheets of lights and artwork to impress, I can assure that your eyes will want to wander in amazement at what this venue has to offer.  Also, the newlyweds chose to add-on our discrete uplights into the mix, shining their wedding colors up the walls and onto the ceiling. These lights really work to set the scene of romance and celebration.  Armed with our mini piano shells, Felix & Fingers adds a classy edge to our energetic show. If you'd like to see some more mind blowing photos from the night, I would highly suggest checking out Kaia's work HERE!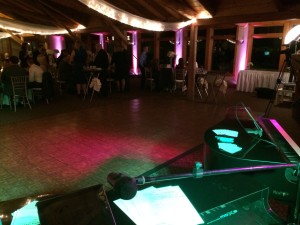 Seasoned Party People
Seriously, these folks knew how to have a good time. With the bride being a former cheerleader along with her bridesmaids, we had to pull out OMI's new smash hit, "Cheerleader" and send the crowd into a frenzy.  Everybody had really great song choices ranging from Andy Grammar, Sam Hunt, and Backstreet Boys, to Frank Sinatra, Michael Jackson, and Billy Joel.  Oh and apparently a certain Aaron Carter tune made the entire room lose their minds! Mike and I are still scratching our heads about that one. I'm just glad that the dance floor was big enough to fit everyone who needed to bust some moves that night.  Walking into the Hawk's View Golf Club, we knew this was going to be a Felix & Fingers special, and I certainly won't forget the smiles on Courtney and Chris's faces at the end of the night.  We all had a genuine fun time.  Okay, so if you're looking to plan a party in Lake Geneva, WI, you HAVE to check out Hawk's View Golf Club and book it NOW.  Also, you don't want to go without some world class entertainment. So scroll down and drop us a line. We'll get in touch with you with lightning speed.
{{ reviewsOverall }} / 5
Users
(0 votes)