On a beautiful Saturday in July, Mike Potts and I headed up to Door County, WI to provide entertainment for the wedding of Jon and Anne-lise D'Angelo.  I was excited about this one anyway because I got to bring my guitar, but when we got to Egg Harbor we were even more thrilled to be playing at one of the coolest venues I've ever been to.
The Woodwalk Gallery is set in a beautiful old barn on top of a hill, and with the decor Anne-lise had worked so hard on, it made for a very romantic setting.  The sunset peeking through the slats in the building was really something.  We got set up inside for the dueling show first before heading down the hill to the silo in front of which the ceremony was to take place.  We'd brought a lapel mic for the officiant to use, but the silo naturally amplified his voice so well we didn't even end up needing it!  After a beautiful ceremony and breaking of glass, it was time for my personal favorite part of the ceremony- the recessional.  They'd chosen "Let's Get Married" written by our very own Dave Radford and his wife (The Gray Havens,) and Mike and I had a lot of fun doing it as a duet with both piano and guitar!
The "Cake-tastrophe"
We DJ'ed sort of a rustic playlist for cocktails while we brought the ceremony equipment up to the barn to get ready for the reception, which is when things started to get interesting.  The plan was to do the cake cutting right after dinner and before the first dances, but this was made… difficult… as the cake was dropped and completely smashed.  As musicians who've played an innumerable amount of weddings, when something like this happens your attention shoots to the bride to make sure she is okay and not panicking.  To our amazement, she was cool as a cucumber. She said they were working on getting a small cake together to at least have something to cut, and that if we could make some jokes about it that would be great.  Obviously we were happy to oblige.
When the mini cake finally arrived it was time for the first dance, and I can honestly say it was unlike any I've ever played before.  They'd chosen "Wildfire" by John Mayer, so I played it on the guitar while Mike played the tambourine.  It seemed just perfect for the venue they'd chosen in Door County, and it was a really fun way to start the evening!
After that everything seemed to go off without a hitch.  We did a couple special anniversary dances for relatives who'd come in from out of the country, and of course as the evening wore on and the younger crowd took over, we got our share of 90's and rap requests.
Playing this wedding made one thing very clear: weddings take a lot of planning, but on that day anything can happen.  It was so inspiring to see this couple who'd experienced what many would call a wedding disaster with the cake handle it with such poise.  You could tell the most important thing to them was that they were finally married.  And by the end of the night, after hours of dancing and fun, I don't think anyone remembered there had been a problem at all.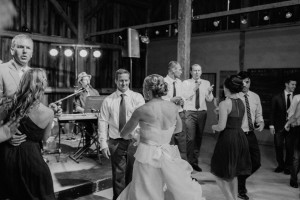 For more information on the Woodwalk Gallery in Door County, visit http://www.woodwalkgallery.com.  Interested in some Door County Dueling Pianos of your own? To book Felix and Fingers for your next event, visit https://www.felixandfingers.com/contact.
{{ reviewsOverall }} / 5
Users
(0 votes)