Fox Banquets – Great Location – Great Events
I recently headed up to Fox Banquets in Appleton, WI for a private event for Pöyry, an international consulting and engineering company.  From the moment I arrived there, the staff treated me incredibly well. They showed me the best place to load in, and even offered assistance!  Luckily I didn't need much help, since I'd brought along my roadie/wife Karla.  Maybe it should be wife/roadie…
Fox Banquets is located right on Fox River in Appleton, and even late in the evening the surrounding views were astounding.  Even driving through the parking lot gave great views of the river and surrounding greenery!  And bear in mind, I was there in January in the freezing cold.  I'm sure it's even more stellar in the spring, summer, and autumn!   Check them out here! 
Fox Banquets Parties
The party at Fox Banquets was great!  I started off playing piano and singing during dinner.  As usual, I kept it to jazz standards, which is always my favorite way to start an evening.  It's also a great way to warm up my voice for the Rock and Roll that is inevitably coming in a couple of hours.
For a corporate party, these guys sure knew how to party!  When I finished playing at the end of the night, the dance floor was still full!  I accused the guests of only liking songs because of their kids, since they were requesting "Shake it Off" and "All About that Bass."  I was surprised "Let it Go" never came in… though I'm sure if I'd suggested it, they would have been all game!
The Future of Fox Banquets
As I was speaking to some of the guests, a few mentioned that Fox Banquets might not be around for long.  After doing some research, I discovered that Appleton is building a new $37 million public library, and guess who is right on the proposed spot?  Fox Banquets…  As far as I can tell, the city has gotten an appraisal of the space and will make an offer to buy the building.  The city budgeted $5 million for space acquisition, and other than Fox Banquets, there is a church on the land as well.  After the city's appraisal, Fox Banquets has 60 days to get their own appraisal, at the city's expense.  A company out of Green Bay will be doing that, so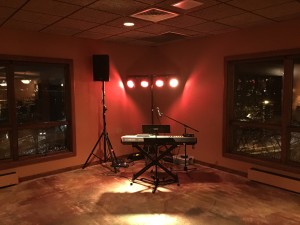 there isn't a conflict of interest.
It's too bad, because Fox Banquets is such a great space, but maybe with the city's money, they can rebuild somewhere just as good!  I know with the staff and management, wherever they go, they'll succeed!
Fox Banquets – Hopfully Not the Last Time
I had a great time at Fox Banquets, and I'm glad everyone else did!  We at Felix and Fingers always strive to put on a great show, and nothing makes me happier than doing it week after week.  I wonder if I'll ever get sick of playing "Jailhouse Rock," "Baby got Back," and new songs like, "Wrecking Ball."  Well, if I haven't yet, I doubt it will ever happen!
Want Felix and Fingers to entertain at your party?  Get in touch with us here!!
{{ reviewsOverall }} / 5
Users
(0 votes)