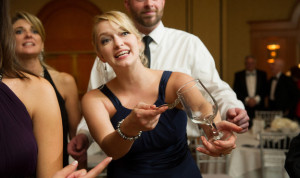 Wedding traditions are great, but there are some that make many of us roll our eyes and can't stand the thought of having at our own reception. The glass-clinking tradition is one that has a lot of mixed opinions. If you aren't familiar with this concept, glass-clinking occurs when guests bang their silverware against their glasses and cheer while the couple shares a long kiss.
Some newlyweds don't want this tradition to be a part of their wedding, but are completely unaware of how to prevent it. There are many clinking alternatives that we can introduce so that you never see the first knife or fork raised. Whether you are looking for something conservative or more outrageous, you'll be sure to find something you like with these 10 great alternatives to clinking for your wedding.
10. Roll the Dice
Playful couples will get a kick out of having funny dares assigned to different numbers on one of those jumbo party die. For a kiss, the player has to roll a 10 or higher, but with so many other great things to assign to numbers (get silly and creative!), people will be having so much fun, they won't even worry about the "clink kiss".
9. Make Them Pay
Set up a decorated box and make guests pay a dollar for the two of you to kiss. It's a sweet sentiment, as the money can be used toward the honeymoon.
8. Take a Shot
Some couples like to turn their sought-after kiss into a drinking game, which we have to admit, is pretty fun for guests too. Any guest who wants a kiss must take a shot of the couple's choice of liquor.
7. Kissing Karaoke
Have guests who want to see a kiss be required to perform a love song. This choice makes for great memories and entertainment for all involved.
6. Set Up a Mini-Golf Course
If you have an outdoor reception, consider setting up a mini-golf course and each time someone scores a hole-in-one, you and your spouse pucker up.
5. Donate to Charity
Much like the kissing box for honeymoon funds, only this time guests are asked to pledge a donation to a non-profit of the couple's choice. Each donation results in a smooch from husband and wife.
4. Start a Story Circle
In order for the bride and groom to kiss, guests must share a story involving the couple in front of the wedding party. Whether it's an old childhood memory or a fun fact, each time they are finished, guests can toast and the couple can kiss. This is a fun way to foster friendship and love among everyone in attendance.
3. Host a Trivia Game
Who doesn't love game night? Host a couple's trivia challenge and have guests answer questions involving the bride and groom. In order for a kiss to happen, a participant must successfully answer a question. Ask questions like, "What did the groom study in school?" or "When is the bride's birthday?"
2. Ring a Bell
The chime of bells are romantic as well as rooted in Irish tradition. Wedding bells are common gifts at Irish weddings, believed to serve not just as a reminder of the couple's love but also ward off bad spirits. You can hand them out as wedding favors and explain that they're to be rung during the recessional.
1. Just Dance
Assign each table a blank numbered card that guests write a song on and turn in to the DJ/band. When that song comes on, the couple has to hit the dance floor and can conclude their performance with with a kiss.
Did You Find One You Like?
These ideas are all available in our online wedding questionnaire that we will have you fill out when you are ready to get started with the details of your event! Do you have an idea that we didn't present?  Let us know about it in the comments below!
{{ reviewsOverall }} / 5
Users
(0 votes)