Planning a wedding is hard, and when every choice seems more important than the last, a lot of pressure naturally falls on picking the perfect tune for walking down the aisle.  After all, this is your big moment – your grand entrance!
Let me take some of the pressure off…
Would you believe that one of the comments I get most often from brides post ceremony is, "I forgot to listen to the music!"  When your guests stand while you enter and are escorted down the aisle towards the first day of forever, is it any wonder that you might have bigger things on your mind?  This is not to say that the processional music isn't important, but I'd recommend you take extra time writing your vows as opposed to stressing over the perfect song.
But let's get back to the point!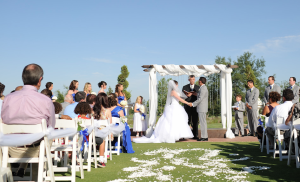 Ideas for Ceremony Music:
There are a couple ways to approach ceremony music with a company such as ours.  We can play your music as solo pianists, we can play and sing your processional song choice, we can bring in other instruments, or we can just as easily DJ your favorite tune.
Live: By far the most popular option is to just have us perform live (that's why you hired – or are thinking of hiring – live musicians!).  Some couples opt for the classic wedding approach, such as "Here Come's The Bride" (Wagner's Bridal Chorus) or Pachelbel's Canon in D.  These tunes are tried and true and are the choice for 75% of our weddings.  You can also check our playlist below for other classical choices for the classier approach.
And live can also include singing!  Pick your favorite love song and we'll sing it live.  For some weddings this may distract from what's important (YOU!), for others it works perfectly.  My one recommendation though is if you have us sing the processional, have us sing just about everything else then as well.  Nothing draws more attention then a singer suddenly stepping up to a microphone if he/she hasn't sung a not up till that moment.
Live Plus!: Every so often we have clients ask to augment their processional music with a violinist, cellist, or maybe even just their best friend who happens to be a great singer.  We love these options!  If you have a bridesmaid who wants to sing, it can be a beautiful option.  If your cousin is a great flutist, then why not have her play?  Just make sure that if you decide to go this direction, that the added performer is good under pressure and doesn't need much rehearsal time (no one wants to be responsible for the wrong note as you walk down the aisle).
DJ: Or have us DJ 🙂  Maybe you wanted a string quartet but it wasn't in the budget – just have us DJ your special song.  You (or we) can find great string quartet recordings of both classical music and popular tunes.  Below is a recording of Mumford and Sons' "The Cave" performed by the Vitamin String Quartet.  If you're going for a rustic feel…this can be a marvelous choice, along with anything else like it.  Again, leaning towards the instrumental processional music instead of the vocal music might be a wise choice…but there's no rules here – it's your big moment!
Or maybe you're that unique couple who is tired of the standard thoroughfare.  Why not get creative and have fun with your processional music?  Usually I save the humorous choices for the recessional, but I've had to play "The Imperial March" from Star Wars on more than one occasion.  If you want the ceremony to be light-hearted and fun, this is a good time to send out that message (you might want to run it by your family first though!).
Final thoughts:
Don't stress it! Look through the list below.  Maybe you'll love one of these songs, maybe it'll point you in the right direction.  Keep in mind though most Processionals are about 30 seconds long, so don't listen to all of Appalachia Waltz to see if you like it or not.  This is an important decision, but it can also be relatively easy.  Think about the theme, your personalities, and your guests…the rest should follow.
And if your tune isn't on this short list of potential tunes, just ask us about it!  This is only a start 🙂
{{ reviewsOverall }} / 5
Users
(0 votes)