You two have been dating for a while now, and you've come to one of the biggest decisions of your life. You have determined that it is time to "pop the question" and ask her to marry you. To make this moment-of-moments one to remember, there should be a certain theatricality to the event. No mere request is worthy of the answer you hope to hear. To "seal the deal" you would like to present her with an engagement ring; by surprise if at all possible.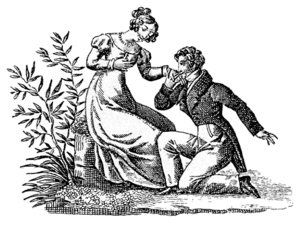 In the movies, the romantic leading man takes a small velvet box from the pocket of his jacket. He bends on one knee to ask his love to stand beside him for the rest of eternity. There is another scenario prevalent in television shows and literary works, where the gentleman hides an engagement ring somewhere his leading lady will discover it. Of course, she does and his romantic gesture saves the day.
What differentiates fiction from real life, is the fact that these fellas just seem to know the ring size of their beloved. Much like clothing and shoe sizes, the size ring a person wears is all important. This is especially true when you are purchasing an expensive piece of fine jewelry. After all, the last thing you want is for that gold ring to fall off her finger. If lost, you will probably never recover it. If found by a stranger, you'd be hard-pressed to see it returned to its rightful owner.
To supplement the element of surprise, it may be necessary to enlist one of your fiance's friends or family members. Consider them your closest allies, as they are probably beyond thrilled to make sure nothing stands in the way of this formal proposal. They will have access to her belongings, and may be able to "borrow" one of her rings.
This trusted individual can inquire about current pieces of jewelry your finance already owns. All it takes is, "I never see you wearing your birthstone ring anymore. Why not? You were always so fond of it." If she has stopped wearing a particular ring because it is too tight, then that's a fashion accessory best left behind. If a favorite ring is now too loose due to weight loss, perhaps this friend or relative can offer to accompany your finance to get it re-sized.
For a ring that currently fits perfectly, there is often no need to take it out to a jewelry store at all. All one needs to do is trace the inside of the ring onto a piece of paper. A jeweler will be able to place the traced circle within one of their "sizers" to get an approximate size number.
But what if there isn't anyone to assist you in this daunting task? Walking by a jewelry store or department store counter is far from subtle. However, you could ask your future bride to help you find a piece of jewelry to give your mother or sister. When she tries it on, nonchalantly ask the clerk the size of the sample. Inquire how sizing is determined, then request that your friend serve as an example.
If all else fails, suggest that you would like to buy your girl friend a friendship ring. You have no idea what's in style. You wondered if she would like something modern or an antique? Open up the conversation and suggest an impromptu shopping trip. Remember, a ring that is too large can easily be made smaller. Likewise, a ring that is too tight can be extended to fit the wearer.
{{ reviewsOverall }} / 5
Users
(0 votes)