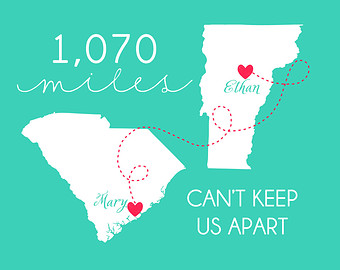 Now that you're planning your wedding, it's no secret that you've got hundreds of things to take care of. One of the issues you and your fiance may be facing is where to have the wedding. This can be a rather unique challenge when you are from different places, and your hometowns are far away from where you currently live. Fortunately, there are a few solutions to explore that could make both you, your future spouse and your families happy.
Depending on the dynamics of your respective families, it may be a good idea to sit down with your parents and come up with a plan that everyone can live with. As the bride, you may want to have the wedding in your hometown per tradition, but it may make more sense to have the ceremony in the place where you and your fiance met. If you have the wedding in a place where neither of you are from, this levels the playing field and gives you and your fiance a preview of what it will be like to compromise in your marriage.
Of course, your family may want to have the nuptials in your hometown because traditionally, the bride's father pays for the wedding. If your parents, siblings, grandparents and other family members don't have to travel far to see you walk down the aisle, the wedding will be more affordable for them. However, you have to consider your fiance's family and their finances. That's why it may be beneficial to work with your loved ones and come up with a wedding location that requires both sides of the family to travel the same distance. Have an open discussion about what each side of the family is willing to do, so you can try to plan in a way that ensures everyone has a great time. You can also combine your traditions with the wants and needs of your spouse by having the bridal shower in your hometown, and holding the wedding ceremony in a place that you and your future spouse have chosen together.
If it's within your budget, you and your fiance could suggest a destination wedding to your family. This way, everyone gets to take a mini vacation, and you get to exchange vows in a place of your choosing. Neither side of the family will feel as though this idea of unfair, and you and your spouse can have your honeymoon at the wedding destination after the wedding, which could also save you money.
{{ reviewsOverall }} / 5
Users
(0 votes)