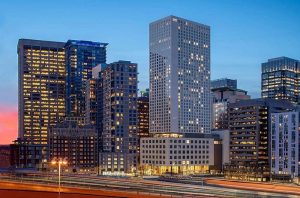 The Hyatt Regency Seattle recently played host to a corporate event that left attendees singing, dancing, and cheering for more. Felix And Fingers Dueling Pianos took the stage, captivating the audience with their electrifying performances and infectious energy. From the stunning ballroom to the delectable dinner, this event was a night to remember. Let's dive into the highlights and relive the magic of this unforgettable evening.
A Feast for the Senses
The dinner preceding the dueling pianos extravaganza was nothing short of exceptional. Attendees were treated to a mouthwatering meal featuring succulent Filet Mignon and a decadent chocolate cake/ice cream hybrid. The delectable cuisine set the stage for an evening of indulgence and delight.
A Ballroom Transformed
As the doors to the ballroom swung open, guests were greeted by a breathtaking sight. The space was adorned with sleek decor and futuristic lighting, creating a vibrant and energetic atmosphere. The icicle-like light fixtures cascading from above added a touch of elegance, while the soft dimming and brightening of the room throughout the evening enhanced the overall ambiance.
Dueling Pianos Delight
Felix And Fingers took the stage and immediately had the crowd on their feet. The talented pianists engaged in a musical battle, captivating the audience with their impressive skills and playful banter. From classic hits to modern favorites, they played a diverse range of songs that had everyone singing along.
Quinn, one of the performers, wowed the crowd with a sensational rendition of "Riders on the Storm." The audience couldn't help but be swept away by the electrifying energy and musical prowess on display. But it was during the iconic anthem "Don't Stop Believing" that something truly magical happened. As the lights suddenly turned off, the crowd erupted in excitement, joining their voices together in a powerful chorus that filled the room with pure joy.
Chase, another member of Felix And Fingers, took the stage to perform Guns N' Roses' "Sweet Child O' Mine." His passionate vocals and dynamic stage presence had the audience in awe. However, a humorous interruption occurred when someone playfully questioned Chase's involvement in the "bean business." Laughter filled the room, showcasing the lighthearted and fun-filled nature of the event.
The Felix And Fingers Dueling Pianos event at Hyatt Regency Seattle was a night to remember. From the exceptional dinner to the mesmerizing performances, every aspect of the evening was carefully curated to provide an unforgettable experience. The sleek decor, futuristic lighting, and helpful staff added to the overall ambiance, creating a perfect setting for a night of musical magic. If you're considering booking a dueling piano event or searching for a remarkable venue, look no further than Hyatt Regency Seattle. Contact Felix And Fingers Dueling Pianos at (800) 557-4196 to bring the excitement and energy of a dueling piano show to your next event. And don't forget to share this blog post to spread the joy of this incredible night!
{{ reviewsOverall }} / 5
Users
(0 votes)