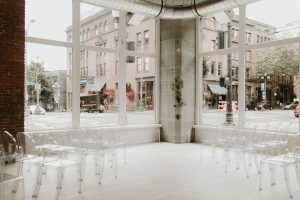 The 101, a stunning venue located in the heart of Seattle, Washington, recently played host to an unforgettable Felix And Fingers Dueling Pianos event. On August 26, 2023, the venue was transformed into a lively celebration of love as Bri and Blake's wedding took center stage. With fun families, a touch of Texas, and a whole lot of dancing, this event was a true testament to the power of music and joy.
A Memorable Speech and a Cowboy Hat:
Jim, the father of the groom, stole the show with a memorable speech that had everyone in stitches. To top it off, he donned a classic cowboy hat, adding a touch of Texas charm to the festivities. Laughter filled the air as Jim shared heartfelt stories and anecdotes, setting the tone for an evening filled with laughter and love.
A Love for Country Music and Dancing:
The newlyweds and their guests share a deep love for country music, and it was evident from the moment the dueling pianos started playing. The dance floor was never empty as guests twirled, spun, and two-stepped their way to pure bliss. From classic country hits to modern favorites, the talented pianists from Felix And Fingers kept the energy high and the smiles wide.
Expressive Interpretive Dancers and Blake's Brother's Moves:
As the night unfolded, a few brave souls took to the dance floor with their own unique style. The interpretive dancers stole the spotlight with their amusing and expressive moves, bringing laughter and applause from the crowd. Not to be outdone, Blake's brother, Josh, showcased his impressive dance skills, leaving everyone in awe. The dance floor became a stage for self-expression and pure joy.
The 101: A Stunning Venue:
The 101 provided the perfect backdrop for this unforgettable evening. With its chic and modern ambiance, the venue beautifully complemented the wedding's color scheme of earthy oranges and pale pink. From the elegant decor to the impeccable service, The 101 ensured that every detail was taken care of, allowing guests to fully immerse themselves in the celebration.
The Felix And Fingers Dueling Pianos event at The 101 for Bri and Blake's wedding was a night to remember. The combination of fun families, a love for country music, and the stunning venue created an atmosphere of pure joy and celebration. If you're considering hosting a dueling piano event or looking for a venue that will make your special occasion shine, look no further than The 101. Contact Felix And Fingers Dueling Pianos at (800) 557-4196 to bring your event to life. And don't forget to share this blog post with your friends and family to spread the joy!
{{ reviewsOverall }} / 5
Users
(0 votes)