When Kelli Hunter (our client), inquired if Felix would be interested in performing for a Museum of Glass Holiday Party, we were all in! Located in beautiful Tacoma, Washington, the Museum of Glass is definitely a magical event space.  Amazing music was sang in unison with songs such as Sweet Caroline by Neil Diamond and AC/DC's Thunderstruck. We knew this was going to be one fun gig!
Museum of Glass Holiday Party Tacoma Washington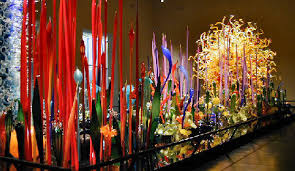 Our performers Justin Lacey and Evelyn brought a fun, interactive and memorable show to their Museum of Glass Holiday Party. Would you believe the Museum of Glass Education Studio is available from the convenience of your home? Download art projects, become a designer, and learn more about artwork at MOG through their at home/virtual programs. The Museum of Glass certainly brings inspirations, techniques, and aspirations to existing and evolving artists passing through their MOG Hot Shop. There was actually a raffle for an educational session inside the MOG Hot Shop. That, indeed, is really cool. Find out more amazing information on this Museum and its MOG Hot Shop by clicking here.
It's cool to know these galleries are dedicated to both temporary exhibitions, as well as permanent collections. They both feature twentieth and twenty-first century glass. Museum of Glass exhibitions span a wide range. Not only do they convey the meaning and motivations of the artists, but with the help of their curatorial team, this eye candy museum keeps going strong.
Justin and Evelyn loaded in and out without a hitch. We brought an extra standing light fixture. Our client was so happy. This light was to make sure everyone knew where the bathroom was. A bathroom beacon!  Cocktail hour had signature drinks pouring left and right. Justin and Evelyn whipped out holiday favorites left and right. Festive indeed!  After a few of these cocktails, our crowd decided to start singing from their tables. Everyone had a great time singing to our awesome rendition of  A Holly Jolly Christmas by Johnny Marks.
A Great Elton John Cover and A Memorable Evening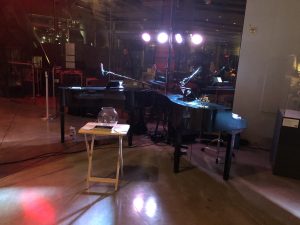 Our gig was laid back and most guests sat back at their tables enjoying our show from their chairs. The rest rocked the dance floor with awesome requests and energy. There was a ton of singing.  Above all, one of our guests decided to provide a karaoke version of Rocket Man by Elton John. Our guest did not want a big deal made out of this performance. This show's organizer didn't miss a second and got on the mic, and grabbed everyone's attention for a "special performance." Felix heard an amazing rendition of this song and good for him. Our guest performer actually started hamming it up and sung his heart out. His coworkers LOVED IT.
While the Museum of Glass Holiday Party was more of a background music experience, we could still hear people singing at their tables. Even more, several guests approached us to thank us for an amazing performance. We also passed out our card to a guest who said she'd love us at her son's wedding. We had such a great feeling! We have such a GREAT feeling for 2022! Happy New Year Everyone from Felix and Fingers!
Contact Us
Felix and Fingers had a blast performing at this holiday event. As a matter of fact, we love performing at ANY event. Shoot us an email to info@felixandfingers.com, or if you'd like to surf our website, please click here for additional information on our show. We look forward to hearing from  you soon.
{{ reviewsOverall }} / 5
Users
(0 votes)