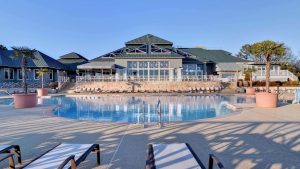 The Kingsmill Resort in Williamsburg, Virginia recently played host to an unforgettable evening of musical entertainment. On October 9, 2023, Felix And Fingers Dueling Pianos took the stage at a corporate event, captivating the audience with their unique blend of talent, humor, and interactive performances. From surprising song choices to hilarious moments, this dueling piano event was an absolute blast!
Highway Star and Surprises Galore
As the night kicked off, one of the first requests that came in was Deep Purple's classic hit, "Highway Star." Both Maddy and the pianist were thrilled with the choice and brought their infectious energy to the performance. The crowd couldn't help but be surprised by their dynamic rendition, setting the tone for an evening filled with unexpected delights.
Laughs and Cartoon Characters
In the front row, there was a gentleman who quickly became the center of attention. His contagious cartoon character laugh had everyone in stitches. The pianists seized the opportunity, engaging in playful banter and incorporating his laughter into their performances. It was a hilarious and memorable interaction that added an extra layer of fun to the event.
Maddy's Stellar Renditions
Maddy, one of the talented pianists, showcased her versatility and talent throughout the night. She absolutely nailed performances of Missy Elliot and Nicki Minaj, leaving the audience in awe of her ability to effortlessly switch genres and capture the essence of each artist. Her renditions were met with thunderous applause and cheers, making it clear that Maddy was a true star of the evening.
Meows and Censored Fun
An unexpected twist of the night was the inclusion of meows in various songs. For reasons yet unknown, the pianists decided to sprinkle feline sounds into their performances, creating a lighthearted and playful atmosphere. The crowd couldn't help but join in the fun, especially when the pianists had to censor certain songs. It was a hilarious and memorable experience that had everyone laughing and singing along.
A Supportive Crowd and Eminem's "Lose Yourself"
As the night progressed, the pianists decided to take on the challenge of Eminem's iconic "Lose Yourself." Despite the difficulty of the rap verses, the pianist bravely attempted to conquer the song. Although he made it through two verses, the crowd's unwavering support and encouragement made it a truly uplifting moment. It was a testament to the inclusive and supportive atmosphere that Felix And Fingers Dueling Pianos creates at their events.
Book Your Own Unforgettable Dueling Piano Experience
If you're looking to add a touch of excitement and entertainment to your next event, consider booking Felix And Fingers Dueling Pianos. Their recent performance at Kingsmill Resort in Williamsburg, Virginia was a testament to their ability to create a night filled with laughter, surprises, and musical magic. To book your own unforgettable dueling piano experience, contact Felix And Fingers Dueling Pianos at (800) 557-4196. Don't miss out on the chance to create memories that will last a lifetime!
Share this blog post with your friends and colleagues who are searching for the perfect entertainment option for their next event. Felix And Fingers Dueling Pianos at Kingsmill Resort is an experience that should not be missed!
{{ reviewsOverall }} / 5
Users
(1 vote)
Name
Address
Website
Email
Phone
Price Range
Venue

Kingsmill Resort

Address

1010 Kingsmill Rd




Williamsburg

,

Virginia

23185