The vibrant city of Dallas, Texas, was abuzz with excitement on April 28, 2023, as Felix And Fingers Dueling Pianos took center stage at the beautiful Bent Tree Country Club, Inc. for a wedding celebration. Despite some unexpected bad weather, this unforgettable event turned out to be a night filled with music, laughter, and joy. Let's dive into the highlights of this incredible evening!
A Warm Welcome and Stunning Venue:
From the moment Felix And Fingers arrived at Bent Tree Country Club, Inc., they were met with a warm and friendly staff who went above and beyond to ensure a smooth load-in and set up. The team at the venue proved to be incredibly helpful in directing the logistics, allowing the performers to focus on creating an unforgettable experience for the wedding guests.
Despite the rain and storms that day, the venue's picturesque surroundings in Addison, TX, added a touch of magic to the atmosphere. The reception area and stage setup were nothing short of stunning, providing the perfect backdrop for an evening of musical entertainment.
An Interactive Experience:
As the night unfolded, Felix And Fingers engaged the crowd with their dynamic performances. The guests and audience eagerly participated, making song requests and joining in on the fun. The dance floor quickly became the center of attention, with guests packing it to the brim and dancing the night away.
The diverse range of song requests showcased the duo's versatility, as they seamlessly transitioned from Billy Joel classics to unexpected hits from bands like Limp Bizkit and Slipknot. It was a testament to Felix And Fingers' ability to cater to everyone's musical tastes and keep the energy levels soaring throughout the night.
A Memorable Finale: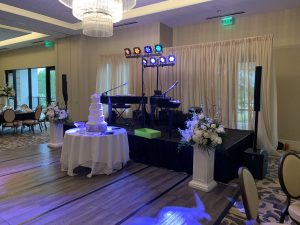 As the evening drew to a close, the newlyweds had their private last dance, cherishing the unforgettable memories they had created. The couple expressed their gratitude to Felix And Fingers, praising their exceptional work and requesting to add them to their preferred vendors list. Sharmila, the CFO of Bent Tree Country Club, Inc., was particularly delighted with the duo's performance, ensuring a night that exceeded all expectations.
The Felix And Fingers Dueling Pianos event at Bent Tree Country Club, Inc. in Dallas, Texas, was a wedding celebration that will be remembered for years to come. Despite the unexpected weather challenges, the venue's beauty and the duo's infectious energy made it an evening to cherish. If you're considering booking a dueling piano event or looking for a stunning venue like Bent Tree Country Club, Inc., we highly recommend experiencing the magic that Felix And Fingers brings to any occasion.
To book your own unforgettable dueling piano event, contact Felix And Fingers Dueling Pianos at (800) 557-4196. Don't forget to share this blog post with friends and family who might be interested in creating their own memorable moments with Felix And Fingers!
{{ reviewsOverall }} / 5
Users
(0 votes)