Felix and Fingers had a grand time performing for the ladies of the Akima Club Knoxville Fundraiser Event. Everyone was so nice to us. Our performers representing this successful fundraiser were Mitch Martin, Geoff Smith and Andy Burns. Everyone had a blast!
Akima Club Knoxville Fundraiser Event Tennessee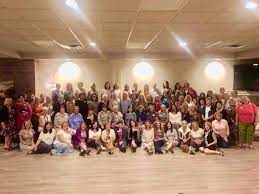 Our client, Mary Lee Keeler and the Akima singers of Knoxville made this fundraiser so much fun. Akima provides financial support and volunteer hours to Knoxville agencies. For example, they cover programs for Culture, Science and Arts. They also help with Children and Youth; Medical and Social Services. Furthermore, Seniors receive excellent care along with a variety of other fields. Akima Club of Knoxville is a 501(c)(3) organization.
Akima is also a women's group. This group serves together, bound by friendship, to enrich their community. If you'd like further information on Akima Club of Knoxville, please click here.
The Akima Club Knoxville Fundraiser Event was indeed a show for our books. Mitch, Geoff and Andy were in for a surprise when the Akima Singers ended up making this fundraiser amazing. This is truly a wonderful group of women. Akima is a 75 year-old women's service group serving the Knoxville area. These ladies certainly knew how to party!
A Talented 3-Piece Drummer Show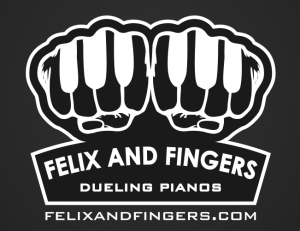 Felix was amazed by the talented Akima Singers. In all honesty, it was like they were part of our show. Everyone was actually a performer of some type, so there was no lack of talent in this room. Additionally, the Akima Club Knoxville Fundraiser showed their 2021 Cabaret on a presenter before our show. Our favorite act was Susan's jazzy Blank Space rendition. She gave PMJ a run for their money. Above all, the Akima men were more than happy to dance the YMCA by the Village People. WTG dudes!
Our Akima Club Knoxville Fundraiser crowd went nuts over the classics. Felix loved busting out Jail House Rock by Elvis. This song flooded the dance floor. Songs such as Yesterday by The Beatles, and Great Balls of Fire by Jerry Lee Lewis were big hits. This audience truly loved us. Our favorite part of the evening was jamming with an accordion player. Never a dull moment at our amazing, interactive dueling piano shows!
Contact Us
If you're searching to hire a high-energy, dueling piano show, shoot us an email to info@felixandfingers.com. If you require additional information on our show, please click here. We look forward to hearing from you soon!
{{ reviewsOverall }} / 5
Users
(0 votes)