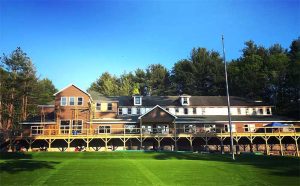 The picturesque Camp IHC in Equinunk, Pennsylvania was buzzing with excitement on August 30, 2023, as Felix And Fingers Dueling Pianos took the stage for a memorable anniversary party. The event was a delightful blend of live music, energetic performances, and even some unexpected surprises. Let's dive into the highlights of this incredible evening that left everyone in attendance with smiles on their faces.
A Melodic Celebration
Shelley, a passionate fan of Barbra Streisand, had her dreams come true as Felix And Fingers played two iconic songs to commemorate Dave and Shelley's anniversary. The crowd couldn't help but sing along as the pianists belted out the timeless classics "People" and "Don't Rain On My Parade." The atmosphere was electric, and the love between the couple was palpable, making it a heartwarming moment for all.
A Dance to Remember
As the night unfolded, the dueling pianists witnessed an unexpected burst of energy from a group of younger girls who recreated the iconic dance from "Dirty Dancing." Their enthusiasm was contagious, and the crowd erupted in applause, cheering on the young dancers. It was a testament to the power of music to bring people together and create unforgettable memories.
Sweet Surprises
The talented duo of Felix And Fingers not only entertained the audience but also received some unique tokens of appreciation. A few generous attendees decided to tip the pianists with delectable desserts, adding a sweet touch to the already delightful evening. It was a heartwarming gesture that showcased the genuine connection between the performers and the audience.
Musical Mastery
The night took an unexpected turn when a daring guest requested the complex masterpiece "Toccata in Fugue" by Bach. Though not a regular part of their repertoire, one of the pianists showcased their skills by playing a snippet of the renowned composition. The crowd was in awe, witnessing a magical moment where classical music met the vibrant energy of dueling pianos.
Les Mis Magic
To further captivate the audience, Felix And Fingers honored Shelley's love for Les Misérables by performing the powerful ballad "I Dreamed a Dream." The pianists' rendition was nothing short of breathtaking, leaving everyone moved by the emotional depth of the song. It was a testament to the versatility of dueling pianos, effortlessly transitioning from Broadway classics to timeless hits.
Camp IHC's Anniversary Party, featuring Felix And Fingers Dueling Pianos, was an evening of pure joy, laughter, and musical enchantment. From the heartfelt anniversary dedications to the unexpected dance performances and the delightful surprises, every moment was filled with excitement. If you're looking for an unforgettable event that combines live music, interactive performances, and a touch of magic, don't hesitate to contact Felix And Fingers Dueling Pianos at (800) 557-4196. Share this blog post with your friends and family, and let the melodies of dueling pianos create lasting memories for your next celebration.
{{ reviewsOverall }} / 5
Users
(0 votes)