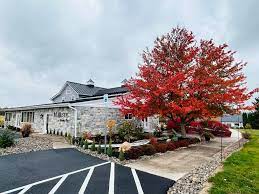 The Majestic at Whiskey Run in Chambersburg, Pennsylvania recently hosted a spectacular dueling piano event as part of their Grand Opening festivities. Felix And Fingers Dueling Pianos took the stage, delivering an unforgettable night of music, laughter, and fundraising. Let's dive into the highlights of this incredible evening!
Brand New Venue, Stunning Ambiance
The Majestic at Whiskey Run is a brand new venue that exudes elegance and charm. From the moment guests stepped inside, they were greeted with a breathtaking sight. The space is adorned with beautiful finishing touches, thanks to the impeccable taste of Aaron and Stacey, the venue's owners and coordinators. Their attention to detail truly made the venue shine.
A View to Remember
One of the standout features of The Majestic at Whiskey Run is its stunning views of rolling hills. The venue cleverly incorporates glass garage doors as walls, seamlessly blending the indoor and outdoor spaces. This unique design allows guests to enjoy the picturesque surroundings while immersing themselves in the lively atmosphere inside.
A Tribute to Tina Turner
The dueling piano show kicked off with a sensational Tina Turner tribute. As the first notes of "Proud Mary" filled the air, the crowd couldn't resist hitting the dance floor. The energy was infectious, and everyone had an absolute blast. It was a true celebration of the late diva's iconic music.
Unforgettable Moments
The night was filled with unforgettable moments, including a heartwarming gesture towards Aaron and Stacey. When the duo was thanked for their hard work, the entire dance floor twirled them around in appreciation. Stacey even received a special serenade with a rendition of "Stacey's Mom." The crowd's engagement and enthusiasm created an electric atmosphere that made the event truly special.
A Fun Night Out
The audience at The Majestic at Whiskey Run was ready for a night of laughter, dancing, and adult jokes. Parents were thrilled to leave the kids at home and indulge in their favorite songs from high school, especially the beloved 80s rock hits. Felix And Fingers Dueling Pianos delivered a show that catered to every musical taste, ensuring a fun night out for all.
Looking Forward
The Grand Opening of The Majestic at Whiskey Run was a resounding success. Aaron and Stacey Horton have created an exceptional venue that promises unforgettable experiences. Felix And Fingers Dueling Pianos were thrilled to be a part of this special event and can't wait to collaborate with Aaron and Stacey again in the future.
If you're considering booking a dueling piano event or looking for a remarkable venue, look no further than The Majestic at Whiskey Run. Contact Felix And Fingers Dueling Pianos at (800) 557-4196 to bring the magic of live music and entertainment to your next gathering. And don't forget to share this blog post with your friends, so they too can experience the excitement of dueling pianos at The Majestic at Whiskey Run!
Sources:
– Felix And Fingers Dueling Pianos
– The Majestic at Whiskey Run
{{ reviewsOverall }} / 5
Users
(0 votes)